Baked Salmon Toast with Ricotta and Avocados
25 October 2012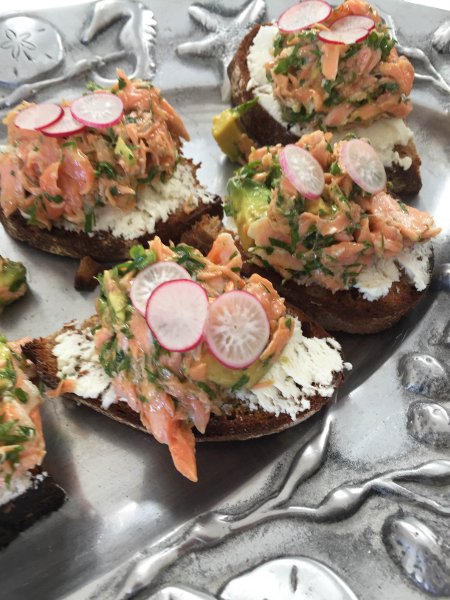 Serves 12
Ingredients:
1 loaf of fresh baked bread
1 filet of salmon skinned and pin boned
1 onion sliced
3 cloves garlic chopped
6 sprigs thyme
1 lemon
1 bunch chives chopped
1 bunch parsley chopped
3 avocadoes
6 English breakfast sandwiches
1 pint or 500g ricotta
Extra virgin olive oil
Salt, pepper
Preparation:
1. Preheat oven to 400°F or 200°C.
2. Drizzle the olive oil liberally on the salmon and spread evenly. Season the salmon with salt and pepper.
3. Lay the onions, garlic, and thyme on a sheet pan and place the salmon on top.
4. Bake the salmon for 15 to 20 mins until medium rare.
5. Slice the bread to ½ inch pieces and brush with olive oil. Season with salt and pepper.
6. Bake until golden brown and crispy.
7. Deskin and de-seed the avocados and cut into ½ inch pieces.
8. When the salmon is cool to the touch, place it in a mixing bowl and break it into pieces.
9. Chop up the vegetables and place in the bowl with the salmon.
10. Gently fold in the avocado, and herbs. Season with lemon juice, salt, lemon zest, and olive oil.
11. Serve on the toast spread with ricotta and garnish with sliced radishes.
This recipe was specially created by Chef Tsu-Hung Bam Liu.