Buttermilk Semolina Cake with Cardamom & Caramelized Pear
25 October 2012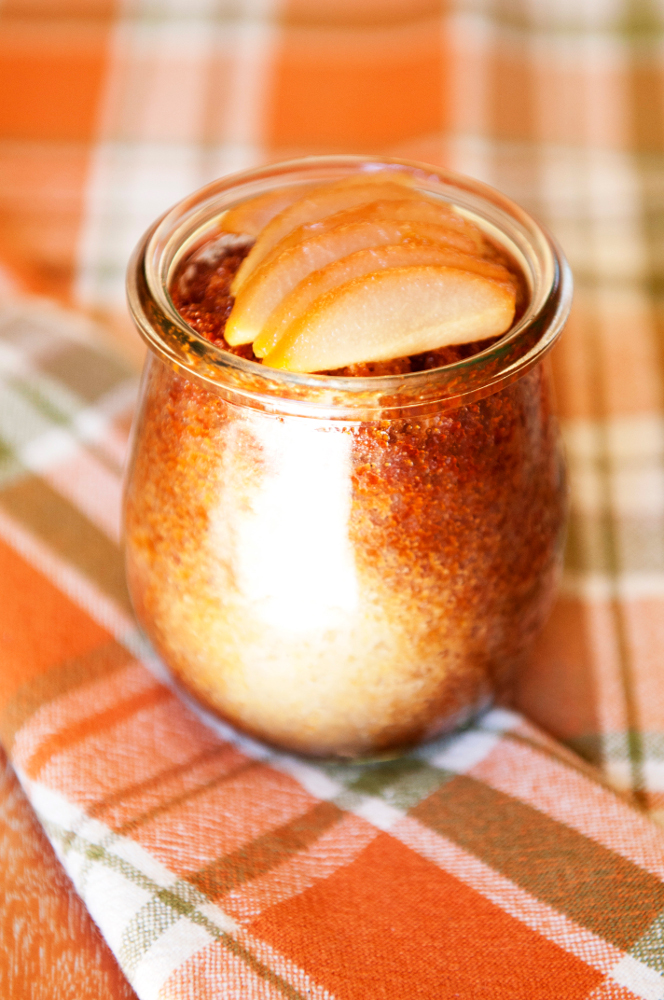 Serves 10
Ingredients:
For making cake batter:
1 cup semolina
1 cup farina (or cream of wheat)
1½ teaspoons baking soda
1 tablespoon baking powder
1¼ cups buttermilk
¾ cup sugar
2 eggs
¾ cup butter, melted
1 teaspoon vanilla extract
1 teaspoon ground cardamon
For making sugar syrup:
½ cup sugar
2 tablespoons water
2 teaspoons lemon juice
3 pears, halved and core removed
Preparation for the cake batter:
1. In a large bowl, combine buttermilk and sugar using a whisk; continue to whisk until the sugar is completely dissolved.
2. In a different bowl, combine together semolina, farina, baking soda and baking powder using a fork.
3. Add the semolina mixture to the first bowl containing the buttermilk and sugar mix, and thoroughly whisk together.
4. Add vanilla extract, ground cardamom and melted butter and mix until well incorporated.
5. Allow the batter to rest for 20 minutes.
6. Preheat the oven to 350 °F (180 °C).
7. Grease a 8-inch square cake pan with butter.
8. Once the batter has rested for 20 minutes, pour the batter into the greased pan, and even out the surface using a spatula.
9. Bake in the oven for 30 minutes.
10. After 30 minutes, insert a sharp knife into the center of the cake; if it comes out clean, the cake is ready.
11. When the cake is baking in the oven, you should start, making the sugar syrup so as to drizzle on top of the cake as soon as it comes out of oven.
Preparation for the sugar syrup:
1. In a saucepan combine sugar and water together, let come to a boil. Add lemon juice and pears. Lower the heat and let it simmer for 20-25 minutes (the sugar syrup should thicken when it cools down and start resembling caramel).
2. Remove the pears from the sugar syrup and let cool.
3. Slice and fan pears over the top of the cake when it comes out of the oven and add sugar syrup.
4. Finish with vanilla ice cream or whipped cream.
This recipe was specially created by Private Chef Sarah Heller of Yountville, California, for Château Coutet. To contact Chef Heller, please visit www.sarahhellercooking.com.