Herb and Cheese Pumpkin Soufflé
25 October 2014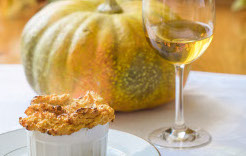 Serves 6
Ingredients:
1 teaspoon cream of tartar
9 large eggs, whites of
8 tablespoons (1 stick, 120 grams) unsalted butter, plus more for pan and soufflé dishes
1 can (15 ounces, 450 grams) pumpkin puree
2 cups (500 milliliters) whole milk
½ teaspoon dried sage
½ teaspoon dried thyme
½ cup (50 grams) all-purpose flour
1/3 cup (30 grams) Parmesan cheese, finely grated
1/3 cup (30 grams) Asiago (Italian cow's milk cheese), finely grated (for dusting)
¾ teaspoon (3 grams) salt
A few grinds of black pepper
Preparation:
1. Heat oven to 400 °F (200 °C). Butter six 10-ounce (500-gram) soufflé dishes. Dust with flour, tapping out excess.
2. Set aside the cream of tartar and egg whites.
3. Thoroughly combine all other ingredients in a large mixing bowl and set to the side.
4. In a very clean bowl, whisk the egg whites into firm peaks. Halfway through whisking egg whites, sprinkle in the cream of tartar.
5. Fold a third of the egg whites into the wet mixture. This first portion of egg whites should be added to the mix more vigorously and will help loosen the mixture to facilitate folding in the remaining egg whites. Spoon the next third of whisked egg whites carefully on top of the mixture. When folding in egg whites, treat them gently to ensure that the air is kept within to lighten your soufflé. Incorporate the final third. Continue turning and folding until there are no visible streaks or lumps of egg white left in the bowl.
6. Gently portion mixture into the ramequins.
7. Sprinkle the Asiago on the top of the soufflés.
8. Place soufflés in the oven on a baking sheet and bake for 20-25 minutes, until risen and golden brown. Tops should be dry to the touch.
9. Serve soufflés immediately.
This recipe was specially created by Chef Thomas Winslow.