Mascarpone pears poached in Sauternes
25 October 2014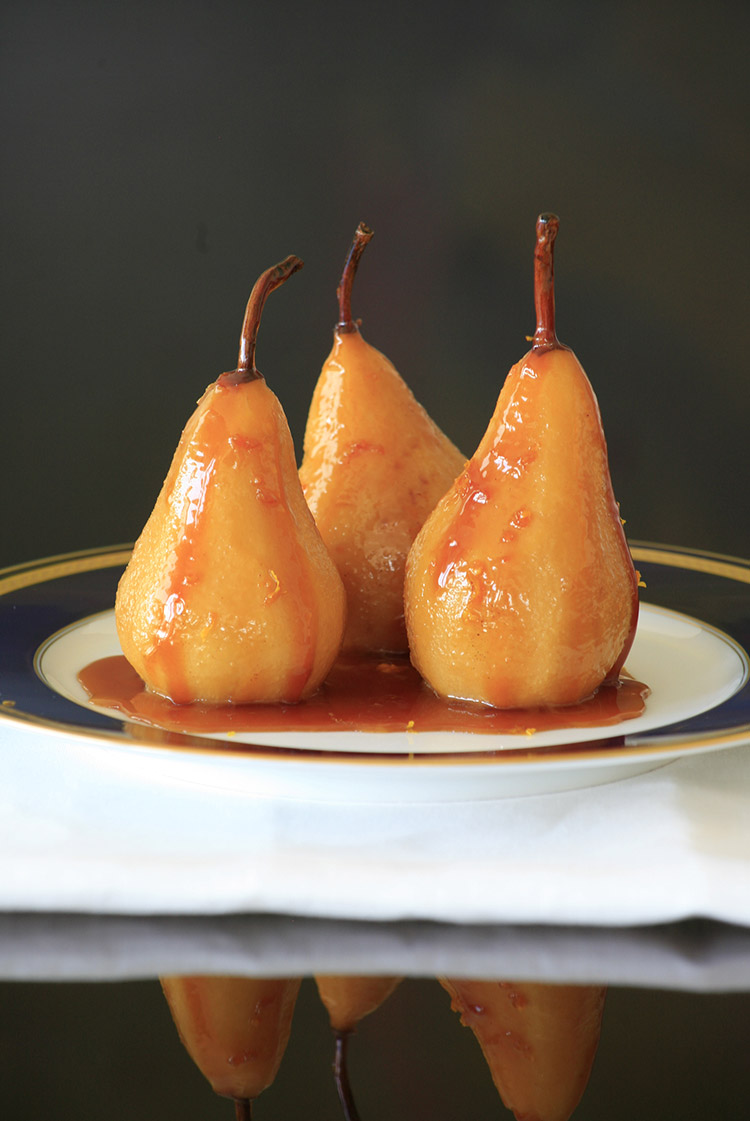 Serves 8
Ingredients:
1 (750-ml) bottle Sauternes
¼ cup agave nectar
1 whole vanilla bean, split and scraped
2 whole cloves
½ teaspoon nutmeg
Zest of 1 lemon
Zest of 1 orange
Juice of 1 orange
Pinch of saffron
1-2 teaspoon honey
4 firm Bartlett, Anjou or Bosc pears, peeled leaving the stem intact and cored (ensure you core the pears from the bottom and keep the flesh intact- the goal is to make the pear look untouched while standing upright)
Preparation:
1. Place everything but the pears and zest in a 4-quart saucepan over medium heat and bring to a simmer.  Cook slowly until the saffron begins to dissolve and the poaching liquid begins to take on bright saffron orange color (about 20 minutes).
2. Decrease the heat to medium low and place the pears and zest into the liquid. Cook for 30 minutes or until the pears are tender but not falling apart. Maintain a gentle simmer. If the pears float, set a few spoons on them to ensure they are entirely submerged.
3. Remove the pears to a serving dish, standing them upright, and place in the refrigerator. Reserve one cup of poaching liquid.
4. Pipe the mascarpone filling (see recipe below) into the bottom of the pears when they have cooled.
5. After straining the reserved poaching liquid, reduce over low heat to a syrup-like consistency (do not use high heat or you will scorch the sauce).
6. Fill a squeeze bottle (or jar) with the syrup and add an equal part Sauternes as well as a teaspoon or two of honey to taste.
7. Serve the filled pears with vanilla ice cream, a bit of the Sauternes sauce and a glass of Sauternes.
If you desire to increase the number of pears cooked the liquid need not be increased proportionally- just make sure there is always plenty of liquid to cover the pear flesh
The poaching liquid can be made ahead up to 2 days ahead of time-this will also intensify the final flavor
Ingredients for the mascarpone filling:
1/2 cups mascarpone cheese
1/2 cup heavy cream
Zest of ½ lemon
Zest of ½ orange
1 teaspoon vanilla
Preparation of the mascarpone filing
1. Beat all but the cream until thoroughly combined.
2. Beat the cream into medium peaks.
3. Fold the mascarpone and whipped cream together.
4. Using a pastry bag (or a Ziploc with a cut corner) pipe the filling into the cooled pears.
Courtesy of Thomas Winslow, Chef