Roasted cod with Puy lentils and tomato and basil vinaigrette
25 November 2014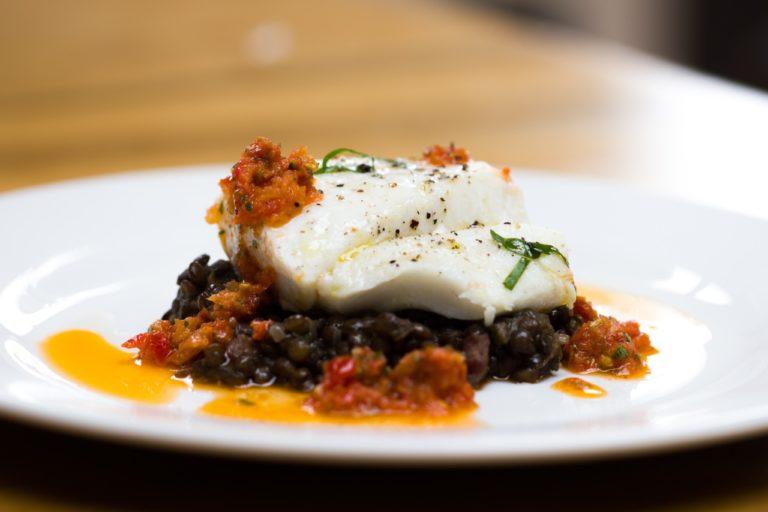 Ingredients:
For the cod and lentils:
4 tbsp. extra virgin olive oil
2 shallots, finely diced
2 cloves of garlic, finely diced
50g pancetta or streaky bacon, cubed
200g puy lentils
300ml chicken stock
2 bay leaves
A large sprig of thyme
6 sunblush tomatoes, finely diced
4 cod fillets
Sea salt and black pepper
For the vinaigrette:
3 tbsp. red wine vinegar
6 tbsp. extra virgin olive oil
8 sunblush tomatoes
2 spring onions
8 large leaves of fresh basil
Sea salt and black pepper
Instructions:
1. In a large saucepan fry the shallots and garlic in oil over a low heat, until softened.
2. Add the pancetta and cook for a further 3-4 minutes, stirring regularly.
3. Add the lentils, stock, bay, thyme, and sunblush tomatoes, and bring to a simmer.
4. Cover with a lid and cook gently for about 25 minutes, until the lentils are tender.
5. Preheat the oven to 200°C. Keep checking the lentils and add water if they become too dry.
6. Meanwhile, for the vinaigrette, blend together all the ingredients in a food processor.
7. Season the vinaigrette and lentils to taste. Remove the herbs from the lentils.
8. Lay out the cod fillets on a foil-lined baking tray. Season well and drizzle with oil.
9. Bake in the preheated oven for 14-18 minutes, until flaky and just cooked through.
10. Serve the cod on the warm lentils with the vinaigrette drizzled around.