Feta and herb couscous stuffed peppers with rocket and sundried tomatoes
25 February 2016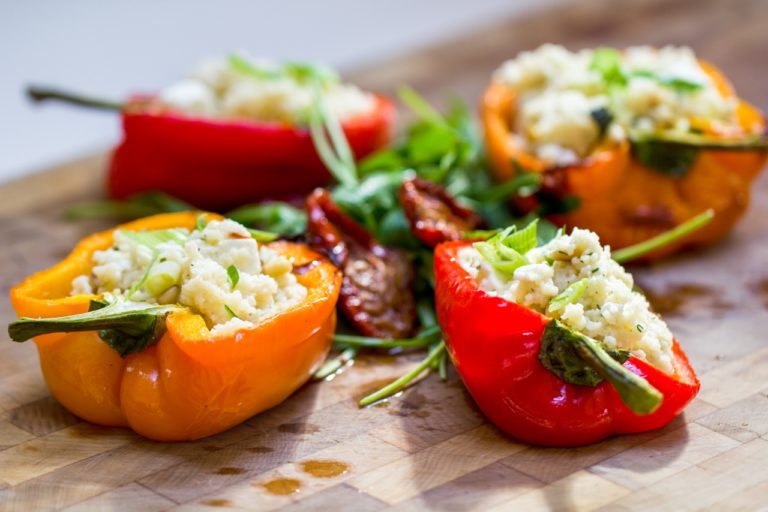 Ingredients:
For the stuffed peppers:
1 red pepper
1 yellow or orange pepper
6 tbsp. extra virgin olive oil
100g couscous
40g pine nuts, toasted
120g feta cheese, chopped into 1 cm cubes
A handful of chopped mint, parsley and dill (or other herbs of your choice)
2 spring onions, finely chopped
1 lemon, juice and finely grated zest
Sea salt and black pepper
For the salad:
150g rocket leaves
50g sundried tomatoes in extra virgin olive oil
2 tbsp. balsamic vinegar
A handful of parmesan shavings
Sea salt and black pepper
Instructions:
1. Preheat the oven to 200°C.
2. Cut the peppers in half lengthways and remove the seeds and core with a sharp knife.
3. Place them in a baking tray and drizzle with a little oil. Season to taste. Cook in the preheated oven for about 20 minutes, or until tender.
4. Meanwhile, in a saucepan heat 300ml water with the oil and a generous pinch of salt. Once simmering, add the couscous and cook for 3-4 minutes, stirring frequently. Remove from the heat and put a lid on for 5 minutes. Stir in the pine nuts, feta, herbs, spring onions, oil, lemon juice, and zest. Season to taste.
5. Stuff the cooked peppers with the mixture and set aside.
6. For the salad, toss together the rocket, sundried tomatoes, and a few tablespoons of their olive oil. Season to taste. Add the balsamic vinegar and parmesan shavings. Season to taste.
7. Serve the peppers either warm or cool with the salad.