Confit leg of Guinea fowl stuffed with tarragon and wild mushrooms with Sauternes sauce
25 July 2016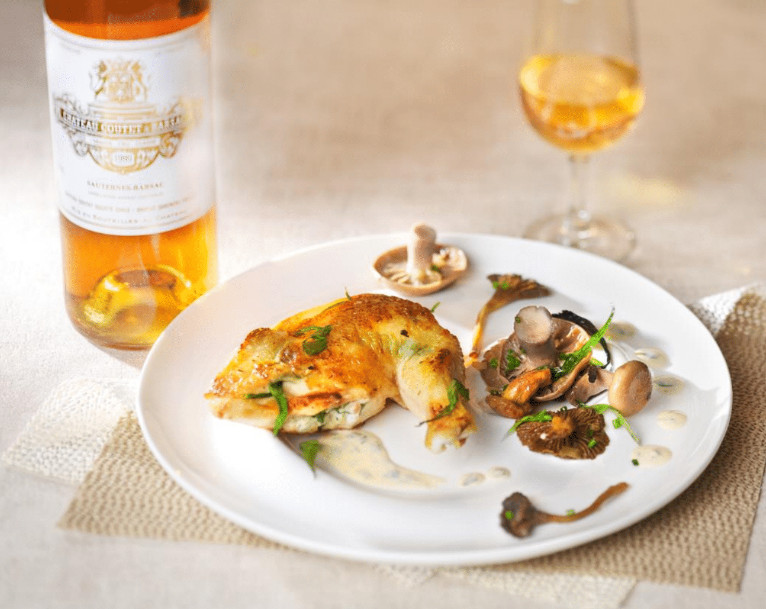 Serves 4
Preparation time: 20 minutes
Cooking time: 60 minutes
Guinea fowl roasted with tarragon and wild mushrooms with a Sauternes sauce makes a superb pairing for Château Coutet. The aniseed notes brought by the tarragon enhance this pairing to perfection.
Ingredients: 
4 guinea fowl legs
Salt and freshly ground pepper
A good-size sprig of fresh tarragon
A splash of olive oil
300g button mushrooms
1 shallot
For the Sauternes-based sauce: 
4 shallots
20g butter
4 tablespoonfuls of Sauternes/Château Coutet
8 tarragon leaves
15cl chicken stock
10cl single cream
Preparation:
Heat a dash of olive oil on a high heat and sauté the wild mushrooms.
Add salt and freshly ground pepper when they are cooked, and then add the finely chopped shallot.
Remove from heat
Remove the bone from the fat of the guinea fowl legs. Stuff each one with a tablespoonful of mushrooms and a teaspoonful of chopped tarragon. Salt and pepper the legs.
Cook them in the oven at 150°C for 1 hour
To make the Sauternes-based sauce:
Cook the shallots in a little butter on low heat.
Deglaze using the Sauternes. Add the chopped tarragon leaves.
Let the Sauternes sauce reduce by half.
Add the stock and fresh cream. Lightly season.
Reduce the sauce to a creamy consistency.
Place the confit guinea fowl legs, the remaining wild mushrooms and a little of the Sauternes-based sauce on to your plates.
Decorate the plates with a few Tarragon leaves.
Suggestion:
Cook the legs longer than for poultry breasts or Supremes, as this will make them more succulent.