Shredded duck and roasted plum salad with a sesame, soy and pomegranate dressing
25 October 2016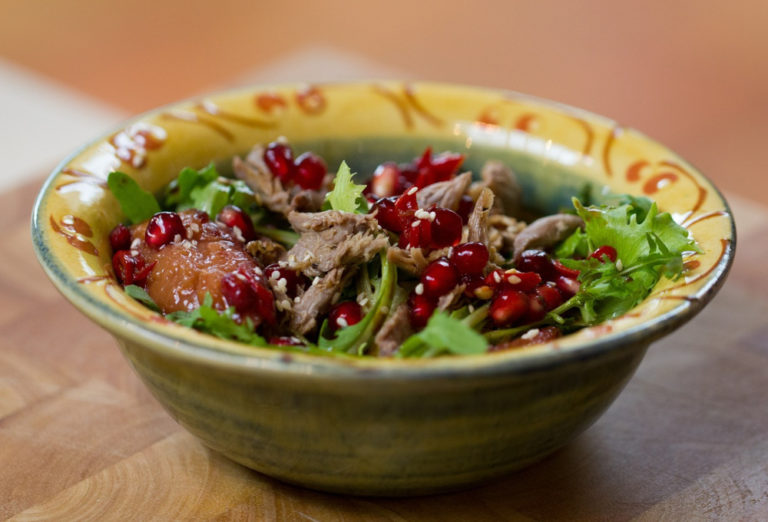 Ingredients:
For the salad:
2 large or 4 small duck legs, skin on
1 tbsp. sunflower oil
8 large plums, stoned and quartered
2 tbsp. light brown sugar
2 tbsp. dark soy sauce
120g mixed peppery salad leaves (rocket, watercress, tatsoi etc.)
2 tbsp. toasted sesame seeds
Sea salt and black pepper
For the dressing:
2 tbsp. dark soy sauce
1 tbsp. runny honey
2 tbsp. sesame oil
1 lime, juiced
1 large pomegranate, fleshy seeds only
1 red chili, de-seeded and finely sliced
Instructions:
1. Preheat the oven to 180°C.
2. Score the duck legs and season generously.
3. Sear in the oil, skin side down, over a medium-high heat to render the fat. Turn over after 5 minutes and sear the other side for about 3 minutes.
4. Meanwhile, mix together the plums, sugar, and soy sauce.
5. Place the plum mixture into a foil-lined tray. Lay the duck legs on top. Cook for 1.5-2 hours in the oven, until the duck is crispy and falling away from the bone.
6. Meanwhile, make the dressing by whisking together all the ingredients.
7. Once the duck is cooked, shred it with two forks.
8. Gently mix together the salad leaves and the shredded duck.
9. Serve with the roasted plums and a few spoonfuls of their juices. Spoon over the dressing and sprinkle with the sesame seeds.