Lobster and turkey club sandwich with apple-wood smoked bacon and lemon-chive mayonnaise
25 December 2016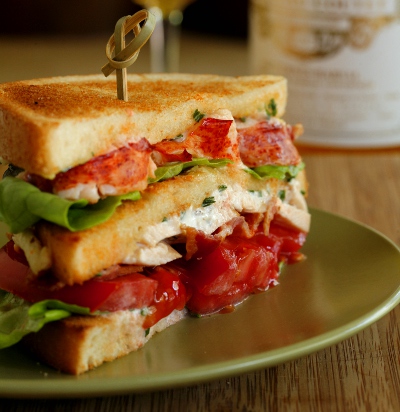 Serves 4
Ingredients:
2 bay leaves
1 small onion, peeled, quartered
4 sprigs of thyme
2 lemons
Kosher salt
2  1-¼ pound lobsters
8 slices applewood-smoked bacon, halved crosswise
1 cup mayonnaise
Finely grated zest of 1 lemon
3 tablespoons fresh lemon juice
1 tablespoon finely minced chives
Pepper
12 slices good quality white sandwich bread
6 ounces sliced turkey breast meat
2 medium tomatoes, sliced medium thickness
4 leaves Butter lettuce
Preparation:
1. Fill a large stock pot ¾ of the way up with water. Add the bay leaves, onion, thyme and one lemon, sliced, to the pot. Salt generously, cover and bring to a boil over high heat. When the water comes to a boil, carefully drop in the lobsters. Cover the pot and bring back to a boil. At that point, set a timer for eight minutes. Remove the lobsters from the water at the end of eight minutes, using tongs or a long-handled strainer, to a baking sheet. Cool at room temperature until they can be handled easily.
2. Twist the tail off each lobster. Using scissors, snip the ribbed cartilage on the underside of the tale until you can loosen the meat and pull it out. Rinse off the meat, if necessary. Slice into ¼" slices and place in a bowl.
3. Pull the claws off and place on a cutting board under a towel. Using a mallet or the bottom of a small saucepan, crack the shells. Remove the meat from the claws and knuckles, being sure to check for any small pieces of shell.
4. Slice the meat into ¼" slices and add to the bowl of tail meat. Mix in 1 tablespoon lemon juice, ¼ teaspoon salt and ¼ teaspoon pepper.  If you are not using the lobster within an hour, cover and refrigerate until ready to use.
5. Place the bacon slices in a single layer in a cold sauté pan over medium heat. Cook until crisp and golden brown, about six-to-eight minutes, turning once during the cooking time. Remove the bacon to a paper towel-lined baking sheet and hold in a warm place.
6. In a small bowl, combine the mayonnaise, lemon zest, two tablespoons of the lemon juice, the chives, ¼ teaspoon salt and ¼ teaspoon pepper. Mix well. Set aside.
7. Toast the bread slices until light golden brown.
To assemble:
Lay out four slices of the toasted bread. Divide a third of the mayonnaise among them. Divide the lobster among them. Top with another slice of toast and another third of the mayonnaise. Divide the turkey slices among the sandwiches, then top with four half slices of bacon each. Layer on the sliced tomatoes. Season with salt and pepper, then top with a Butter lettuce leaf. Spread the remaining third of the mayonnaise on the last slices of toast and place them on top of the sandwiches.
Press each sandwich as you slice it in half diagonally. Place a toothpick in each sandwich half to serve.