Apricot-glazed turkey and caramelized apples
25 October 2017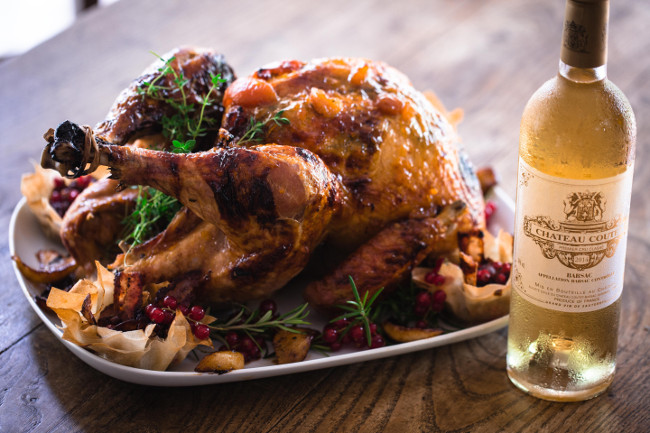 Serves 8
Ingredients:
1 large (~5kg) turkey
2 tablespoon fresh tarragon, roughly chopped
2 tablespoon fresh sage, roughly chopped
200 grams butter, at room temperature
2 lemons
A handful of fresh mixed herbs
1 lemon, juiced
1 orange, grated zest
250 grams apricot jam
4 tablespoon light brown sugar
4 Cox's apples, peeled, cored, and cut into eighths
2 tablespoon butter
4 tablespoon white flour
1 cup quality cider
2 cups chicken stock
Sea salt and black pepper
Preparation:
1. Preheat your oven to 200°C, and ensure that your turkey is at room temperature. Pat the skin dry with kitchen towel, then place it on your largest oven tray, and pour 2 cups of water or stock into the base of the tray.
2. Mix together the chopped tarragon and sage with the butter then make an incision between the skin and breast of the turkey and stuff it with the butter.
3. Place 1 lemon, cut into quarters, and the handful of fresh herbs into the cavity of the bird, with a generous pinch of sea salt and black pepper.
4. Prepare the glaze by mixing together the lemon juice, orange zest, apricot jam and brown sugar. Season generously with sea salt.
5. Place the turkey in the oven, and immediately turn the heat down to 180°C. Cover the turkey loosely with foil after 20 minutes. 40 minutes before you estimate the turkey to be cooked, remove it from the oven and cover it all over with half of the glaze. Return the bird to the oven with out foil covering for 20 minutes, then repeat a second time with the remaining glaze. Allow to cook until the juices run clear (precise time depends upon the size of your turkey) and the glaze is golden.
6. Remove the turkey from the oven and allow to rest on a carving board at room temperature for at least 30 minutes before serving.
7. Meanwhile, coat the apple pieces in sugar and pan fry them in butter over a medium-high heat. Turn them after 3-4 minutes and cook until both sides are golden.
8. Drain all of the juices from the turkey into the tray by tipping the bird. Skim off as much fat as possible using a spoon, then return the pan to a high heat. Stir in the flour and allow to cook for one minute, before whisking in the cider and 2 cups of stock. Allow to boil down until reduced to your liking then stir in the caramelised apples to heat through and remove from the heat.
9. Carve and serve the turkey with the caramelised apples and gravy.
This recipe was specially created by Alex Yandell