Vanilla and cinnamon grilled peaches, apricot and pine-nut shortbread, poached wild strawberries
25 October 2017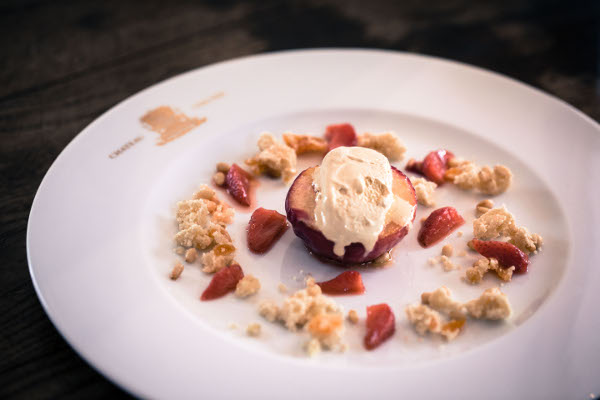 Serves 8
Ingredients:
100 grams strawberries, cut into eighths
100 grams light brown sugar
2 tablespoon Cointreau or other citrus liqueur
150 grams flour
100 grams salted butter
100 grams caster sugar
40 grams dried apricots, roughly chopped
40 grams pine nuts
4 firm peaches
50 grams unsalted butter
1 tablespoon vanilla extract
8 tablespoon dark brown muscovado sugar
1 tablespoon cinnamon powder
Preparation:
1. Place the strawberries, light brown sugar and Cointreau into a saucepan with 200ml water and bring to a simmer.
2. Remove the strawberries from the syrup liquid then reduce it down by half.
3. Pour the syrup back over the strawberries and set aside.
4. Pre-heat the oven to 180°C.
5. Mix together the flour, butter and 75 grams of caster sugar until the mixture ressembles breadcrumbs.
6. Mix in the apricots and pine nuts then pour the mixture into a small non-stick backing tray.
7. Press the mixture down firmly with a palette knife so the crumbs come together. Bake for 15-18 minutes, or until pale golden brown.
8. Score the shortbread with a knife while still warm to make it easier to cut later.
9. Meanwhile, cut the peaches in half and remove their stones. Place the halves onto a roasting tray, then put a small knob of butter and a few drops of vanilla extract into each.
10. Mix together the brown muscovado sugar with the cinnamon then scatter a tablespoon of the mixture over each peach.
11. Place under the grill until lightly caramelised.
12. Serve immediately, with a piece or crumbling of shortbread, a scoop of vanilla ice cream and the poached strawberries.
This recipe was specially created by Alex Yandell