Whipped cranberry fool with orange and cardamom
25 October 2017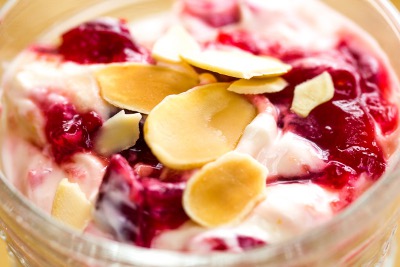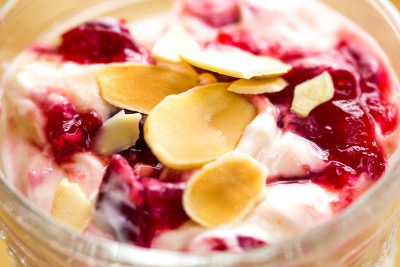 Serves 6
Ingredients:
6 cardamom pods
1 orange, juice and finely grated zest
1 fl oz additional fresh orange juice
7oz cranberries, fresh or frozen
2oz superfine granulated sugar
1 tbsp. cornflour, mixed to a smooth paste with 2 tbsp. water
10 fl oz heavy cream
2oz powdered sugar
7oz Greek yogurt
5oz flaked almonds
Optional: 2 tbsp. runny honey
Preparation:
1. Crack the cardamom pods open with the flat side of a knife.
2. Add them to a pan with the orange juice and zest, and slowly bring to a simmer over a medium-low heat.
3. Remove from the heat and leave to infuse for 5 minutes.
4. Strain to remove the cardamom and zest, and then return it to the pan.
5. Add the cranberries and granulated sugar to the infused orange juice and bring to a simmer.
6. Simmer over a low heat for about 6-8 minutes, until the berries are soft.
7. Add the prepared cornflour and cook for a further 2 minutes.
8. Transfer to a bowl and chill in the fridge. Only do the next step once cooled.
9. Whip the cream with the powdered sugar until stiff peaks form.
10. Fold in the Greek yoghurt then pour in the berry mixture.
11. Fold in gently with a couple of stirs of the spoon, retaining the marbled effect.
12. Spoon the mixture into glasses and chill until ready to serve.
13. Top with the flaked almonds and a drizzle of honey (if desired) then serve.
This recipe was specially created by Chef Alex Taylor.