Foie gras terrine with Sauternes, toasted brioche and fig chutney
25 December 2017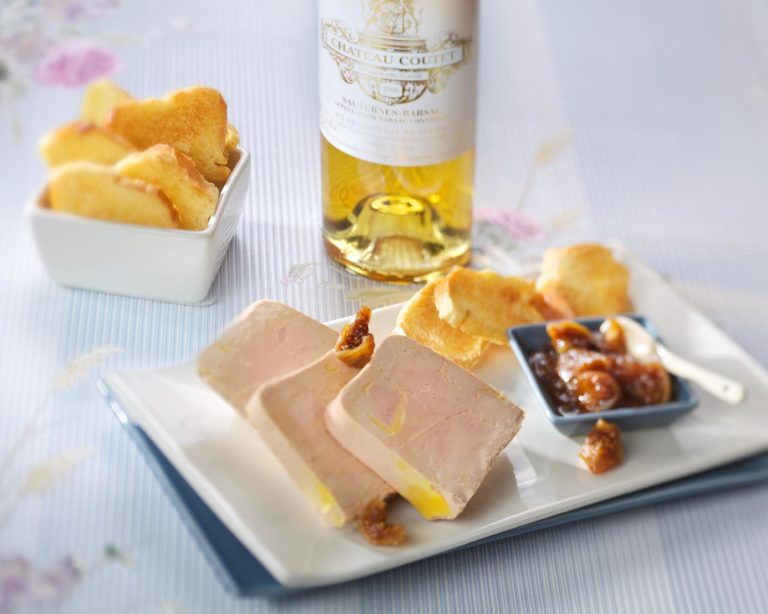 Serves 4
Preparation time: 40 minutes
Cooking time: 40 minutes
Standing time: 72 hours
A very traditional pairing of foie gras with Sauternes/Château Coutet.  The fig chutney with its lively acidity brings freshness to this ever popular dish…
Ingredients:
1 lobe of foie gras
15g of salt per kilo
2g white pepper corns
2 tablespoonfuls of Sauternes
For the accompaniment:
8 slices of brioche
4 of fig chutney
Fleur de sel and freshly ground pepper
Preparation:
Immerse the foie gras in tepid water.
Carefully remove the veins.
Season both sides.
Drizzle a little of the Sauternes/Château Coutet over the foie.
Leave the seasoned liver to marinate 12 hours in the fridge.
Fill a terrine dish with the liver pressing it down to remove all air.
Pre-heat the oven at 140°. Cover the terrine and cook for about 30 minutes.
The foie gras will shrink by about 1 cm on each side.
Remove the foie gras from the oven and leave for 1 hour at room temperature.
Using a board, press down on the liver to remove the fat from the inside of the terrine.
Leave for another 2 hours at room temperature.
Put the terrine into the fridge and leave for a minimum of 72 hours before serving.
Take the terrine out of the fridge and cut it into slices using a knife dipped in hot water
Arrange 1 or 2 slices of foie gras on each plate. Sprinkle fleur de sel and freshly ground pepper on to each one.
Add a dollop of fig chutney. Toast the slices of brioche and serve them hot with the foie gras
Suggestion:
Wait at least 3 days before serving the terrine of foie gras; as by then it will have become even tastier.