Langoustine and asparagus ravioli, with Sauternes Sauce
15 August 2018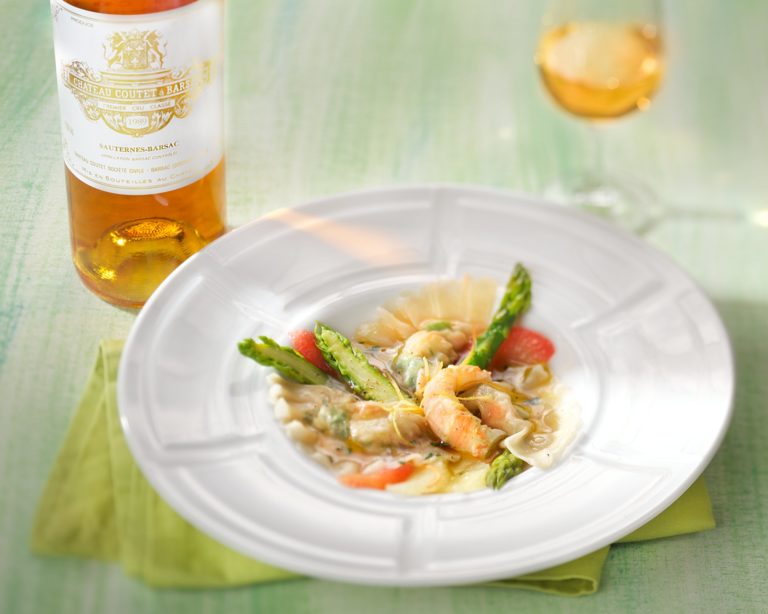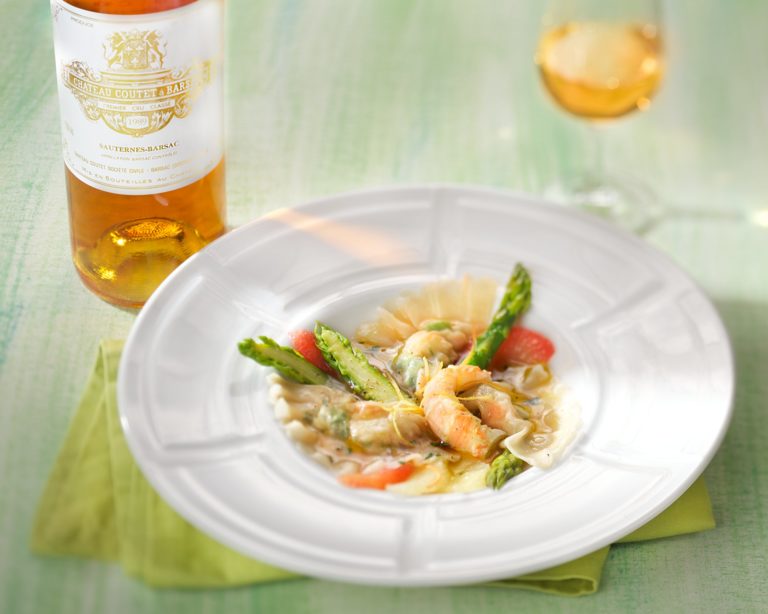 Serves 4
Preparation time: 20 minutes
Cooking time: 15 minutes
Ingredients:
12 langoustine tails
12 green asparagus
24 ravioli pastry sheets
Salt and freshly ground pepper
A splash of olive oil
1 grapefruit
To make the Sauternes sauce:
2 shallots
1 tablespoon (20g) of butter
4 teaspoons of Sauternes
A few drops of lime juice and a little zest
4 fl oz (10cl) cooking juice from the langoustine tails or fish stock
2 fl oz (5cl) single cream
1 egg yolk to stick the sides of the ravioli together
Preparation:
Peel the grapefruit and remove the thin membrane from each segment.
Peel the ends of the green asparagus and remove the ends of the stalks.
Boil the asparagus for 2 minutes and then plunge them into icy water to keep the green color and stop them from cooking more.
Reserve the tips and cut them in half.
Mix the langoustine tails with a little olive oil, salt and pepper.
Make a purée with the asparagus tails and put this inside the ravioli with the langoustine tails.
Salt and pepper the mixture. Close the edges using a little of the egg yolk.
To make the Sauternes sauce:
Gently cook the finely chopped shallots in a little butter for 5 minutes.
Deglaze with the Sauternes, the juice and lime zest.
Cook until the Sauternes has reduced by ¾
Add some of the langoustine tails' cooking juice or the fish stock and the single cream. Add a little salt and pepper.
Cook until the sauce reduces to a creamy consistency and check for seasoning.
Cook the ravioli in a good quantity of salted water on medium high heat for 3 minutes.
Strain the ravioli and put onto warm plates.
Re-heat the asparagus tips and add them to the dish as well as some nice fleshy pieces of grapefruit. Serve immediately.
Top with nicely warm Sauternes sauce.
And it's ready!
Suggestion:
You can use giant shrimps or normal-sized shrimps instead of langoustine tails