Creamed parsnip and beetroot with roasted lemon and oregano
5 October 2018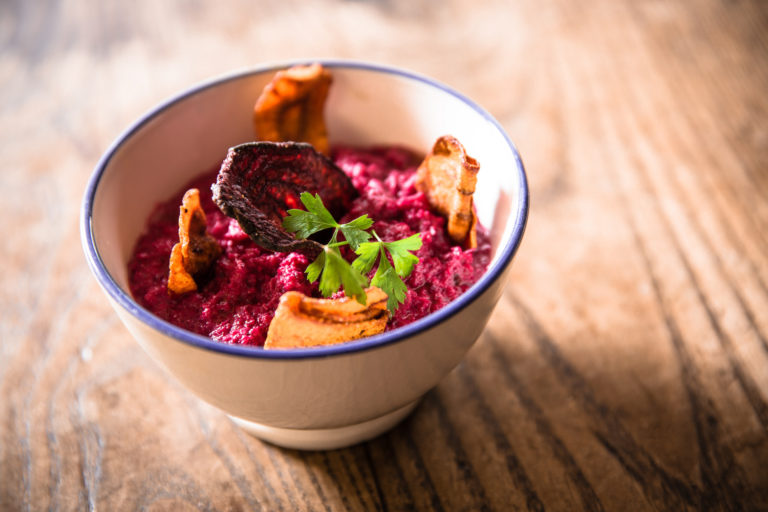 Ingredients:
100ml olive oil
2 large, raw beetroot, peeled and roughly sliced
4 medium parsnips, peeled and chopped into quarters lengthways
2 large unwaxed Sicilian lemons, zested then roughly sliced
A handful of fresh oregano, roughly chopped
A thumb-sized piece of fresh root ginger, grated
1/2 tsp. hot red chili powder
200ml chicken stock
50g butter
300ml whole milk
Sea salt and black pepper
Roasted vegetable crisps to decorate
Preparation:
1. Preheat the oven to 200˚C.
2. In a large oven tray, mix together the slices of beetroot, parsnip, lemon and lemon zest with the olive oil, oregano, ginger and chili powder.
3. Season generously with sea salt and black pepper then roast for 25-30 minutes, until soft and lightly golden.
4. Allow to cool then squeeze the lemon pulp and juice into a blender, discarding the remaining peels.
5. Pour in the contents of the roasting tray and blend together with the chicken stock and butter.
6. Add milk little by little, if necessary, to thin the mixture and give it a creamy texture. Season to taste.
7. Serve decorated with a few roasted vegetable chips and a drizzle of olive oil.
Pair with a bottle of Château Coutet 2005
This recipe was specially created by Alex Yandell