Wine Spectator – Tasting the Top 10 Wines of 2017
23 October 2018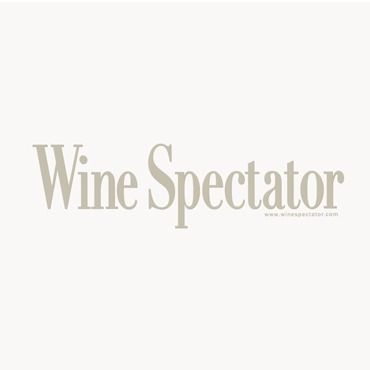 Tasting the Top 10 Wines of 2017
A tour de force showing of what really matters in wine
Passion, natural beauty, tradition, life … the 10 wines deemed the "most exciting" of 2017 encapsulate all these things and more. When K Vintners founder Charles Smith launched into an emotion-filled declaration of the things he wants in his wine, he struck a chord with generations of vintners and wine drinkers in the room. Maybe not everyone seeks "rock 'n' roll" in what they drink and hopefully not every wine represents "heartache," but surely we hope to find goodness, tenderness, love and laughter when we share our favorites with each other.
Every year, Wine Spectator's senior editors create the magazine's Top 100 list, sharing with readers the wines that most excited them for their combination of quality, value, availability and the elusive "X-factor." It all starts with a list of wines that rated 90 points or higher that year. "Going from almost 7,000 wines to 100 is not an easy job," said senior editor Alison Napjus. To get down to the Top 10 is even tougher.
The editors from New York and Napa gather in one room to evaluate, debate and finally anoint the top candidates. "The tasting is completely blind," Napjus explained. "We let the wines wow us. We are looking for the biggest X-factor of all—a wine that makes you stop when you smell it in the glass and then really speaks to you when you taste it."
In a series of four Top 10 of 2017 tastings over the weekend, Wine Experience guests had a chance to see if those 10 wines also wowed them, while the owners and winemakers spoke about the history and personalities behind each.
The first flight brought together three classic reds: Brunello di Montalcino, Bordeaux and California Cabernet, each with a bit of a twist. Tuscany's Casanova di Neri is no stranger to the Top 100, appearing four times with its Tenuta Nuova bottling. While the winery helped pioneer the single-vineyard trend in Brunello di Montalcino, wine No. 4 focused on regional tradition, with the first showing for the winery's introductory "White Label," a blend from multiple sites, aged more than 40 months in large casks. Also for the first time, owner Giacomo Neri's son, Giovanni, took the stage, the third generation stepping into the family business. The 2012, an extreme year and his first official one with the winemaking team, is "a vintage you can start to enjoy now or wait 20 years. … We always look for the balance, concentration in the glass, drinkability and aging potential."
Challenging growers' reliance on chemical pesticides and fertilizers, Count Stephan von Neipperg asked, "How can you have life in your wine if you have no life in your soil?" When he adopted organic farming at Château Canon-La Gaffelière, the practice was revolutionary at the time for St.-Emilion. He also eschewed the reliance on clones in favor of a diverse mix of Merlot and Cabernet Franc cultivated through massal selection from the best old vines on his property. The results have put his wines in the Top 10 twice before. For the structured 2014 at No. 7, as with all his wines, he wanted it to be "fresh, drinkable and not overextracted. That means in the vinification, you have to be really lazy." To achieve true balance, he added, "You have to not work too much."
A love for Napa led to the creation of Hestan winery and its companion labels, Meyer and Stephanie, in a whole new corner of the county for vibrant Cabernet Sauvignon. Fulfilling a decades-old dream, cookware magnate Stanley Cheng, of Meyer Corporation, bought 237 acres of land in an area "most of you have never heard of"—Gordon Valley, near the southeastern boundary—and planted a vineyard in 1997, eventually hiring star winemaker Thomas Rivers Brown. In naming Hestan, Cheng said, "I put my wife Helen before me, Stanley, and great things started to happen." Aged in 50 percent new French oak, the supple Meyer Cabernet 2014, at No. 8, is designed to be approachable young.
The second flight brought together three forceful personalities, each as unique as their wines made from Rhône varieties, representing emerging regions from the New and Old Worlds. Evoking repeated laughter from the crowd, Booker founder Eric Jensen, representing Paso Robles (an area "used to being kicked to the curb"), implored the "fancy" audience to not take wine too seriously, not to make it into an "aristocratic sport." He shared a secret: "This ain't brain surgery. I could take anyone in the audience and have you making wine by Monday. … It's just booze." Mostly forgoing the usual technical details about wine No. 10, his 2014 Oublié, an expressive Grenache-Mourvèdre-Counoise blend, he said, "I just want to make the wine yummy. I don't need you trying to figure out what I was doing."
Tenderness was evident in the way Louis Barruol created his Château de St.-Cosme blend of Grenache, Mourvèdre and Syrah from an estate his family has farmed in the Southern Rhône's underappreciated Gigondas appellation since the end of the 15th century. The pure, intense 2015, at No. 5, underwent whole-cluster fermentation—"there is no destemming with us"—with native yeast in concrete tanks. Starting at the age of 8, Barruol spent 30 years apprenticing with his father, when in 2007, he finally said, "I have taught you everything I can teach you. Now you can continue on your own." But remarking on how knowledge serves creativity, how many unknowns remain in wine and how much is to be gained from training others, Barruol concluded, "To be a winegrower is to love learning all your life right through the end."
The embodiment of rock 'n' roll, the wild-haired, edgy Smith doesn't hold back with his wines or his thoughts. He released his first K Syrah from Washington in 2001 and soon became a regional powerhouse, branching out with additional brands and new sites. His sustainably farmed Powerline vineyard was planted in 2012 (the same year his daughter was born) on an ancient riverbed in the Walla Walla appellation, and from its first commercial harvest in 2014 was bearing fruit of high enough quality to make the deep, smooth No. 2 wine of 2017. After sharing his philosophy on wine to thunderous applause, he concluded with how thankful he is: "I can't believe I get to do this for my life."
Saturday featured three whites, from dry to off-dry to sweet, all represented by a new generation of women managing their family estates after having pursued other careers.
A desire to live life well led Cleo Pahlmeyer's father, Jayson, to quit his career as an attorney to start Pahlmeyer in 1986 in Napa Valley. Now Cleo is president and the 30th anniversary edition of the winery's Proprietary Red is about to be released. But the No. 9 spot went to its opulent, silky Chardonnay (which played a pivotal role in the 1994 film Disclosure) from a cool vineyard high on Atlas Peak that provides a backbone of acidity. Aged all in new French oak, she said, the 2015 "is a classic full-bodied Chardonnay with beautiful intensity, texture and what I always look for in the wine, volume."
The commitment to natural beauty (as Smith put it, "no makeup needed") remains strong at Loire Chenin Blanc icon Domaine Huët, purchased by the Hwang family in 2003. "Gaston Huët was a visionary who encouraged purity of expression in the wines and the preservation of authenticity of terroir," said Sarah Hwang. "Our aim is to reflect the essence of each vineyard site through the lens of each growing season," in part by farming biodynamically to respect the environment. At No. 6, the 2016 demi-sec from Le Mont vineyard, according to editor at large Harvey Steiman, showed "a tension between steely minerality and sweetness." Of this off-dry style, Hwang said, "To us, demi-sec is the classic representation of the potential of Vouvray—it is the vessel by which our terroirs are best expressed."
If any wines embody heartache, it must be those where the risk is high, but the reward so worthwhile, such as the sweet wines of Bordeaux. These "gold wines," as Château Coutet's Aline Baly refers to them to counter the perception that they are only for dessert, are dependent on the arrival of noble rot at just the right time to concentrate the ripe grapes and contribute its distinctive aromas. "Botrytis is an anarchist," quipped Baly, explaining why they made seven passes through the vineyard over 19 days, picking each individual berry as it was ready, to create their fresh, vivid 2014 Barsac, the No. 3 wine.
A passion for the wines of Bordeaux's Right Bank led to Dan and Margaret Duckhorn founding Duckhorn winery in 1976, with the express intent to make great Merlot. Though the variety "has had a few bumps in the road," as CEO and president Alex Ryan put it, it can rank among the best in the world, as was evident in 2017's Wine of the Year. Duckhorn's elegant, layered Three Palms Vineyard Merlot 2014, overseen by winemaker Renée Ary, comes from a warm, rocky, valley-floor site in northern Napa's Calistoga appellation that the winery has relied on since 1978 and now owns. Echoing a sentiment expressed by many of the Top 10 winners, Ryan concluded, "Most of the great vineyards, the less you do, the better they make wine."
When it came to Smith's desire for "goodness," maybe no one can live up to his standard of Mr. Rogers, but each of the Top 10 wines had clearly been created with "a full heart" and a full commitment to the craft.
Top 10 Wines of 2017
1. Duckhorn Merlot Napa Valley Three Palms Vineyard 2014 (95, $98)
2. K Syrah Walla Walla Valley Powerline Estate 2014 (95, $45)
3. Château Coutet Barsac 2014 (96, $37)
4. Casanova di Neri Brunello di Montalcino 2012 (95, $65)
5. Château de St.-Cosme Gigondas 2015 (95, $43)
6. Domaine Huët Vouvray Demi-Sec Le Mont 2016 (95, $44)
7. Château Canon-La Gaffelière St.-Emilion 2014 (95, $61)
8. Meyer Cabernet Sauvignon Napa Valley 2014 (95, $70)
9. Pahlmeyer Chardonnay Napa Valley 2015 (95, $75)
10. Booker Oublié Paso Robles 2014 (95, $80)
Dana Nigro