Brioche Dressing with Mushrooms and Leeks
25 October 2010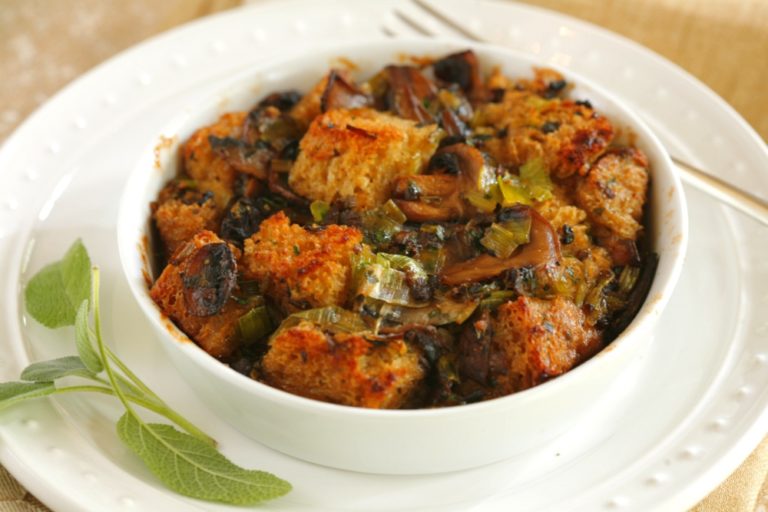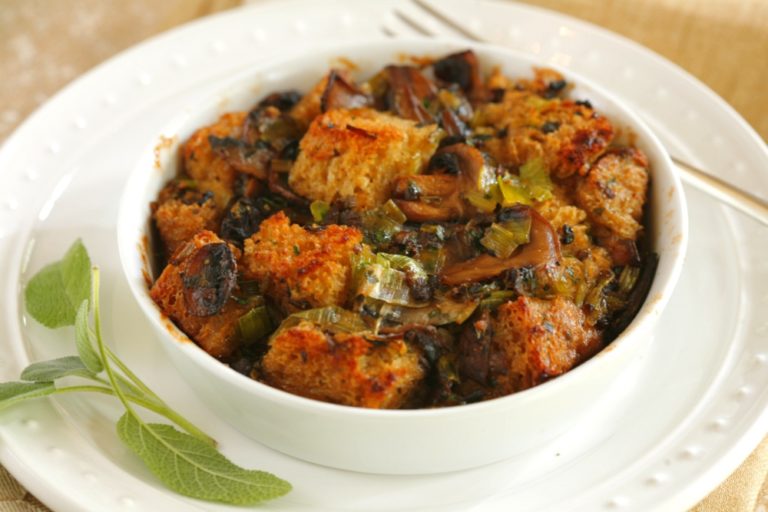 Serves 8 to 10
Ingredients: 
1/2 pound loaf of Brioche
3 cups chicken broth or stock
1/2 ounce dried porcini mushrooms, rinsed well to remove any grit
8 tablespoons (1 stick) unsalted butter plus more for buttering baking dish
2 large or 3 medium leeks, white parts only, quartered, washed, and cut into ¼" slices (about 3 cups)
3 stalks celery, cut into ¼" dice
1 teaspoon kosher salt
1/4 teaspoon pepper
1 pound mushrooms, sliced ¼" thick
1/4 cup sauternes
1 teaspoon dried marjoram
1/2 teaspoon lemon juice
2 tablespoons finely minced chives
2 tablespoons finely minced flat-leaf parsley
3 large eggs, beaten
Preparation
1. Preheat the oven to 175°C / 350°F. Position a rack in the center of the oven. Butter a 9"x13" baking dish.
2. Trim the crusts from the brioche and cut into ½" cubes. Spread the cubes in a single layer on a baking sheet and bake for 12 – 15 minutes, or until toasted and golden. Cool to room temperature. Place in a large bowl and set aside.
3. Place the chicken broth in a medium saucepan with the dried porcinis. Bring to a boil over medium high heat, then turn off and let the mushrooms sit in the broth for 15 minutes. Using a slotted spoon or strainer, remove the mushrooms and squeeze any liquid back into the stock. Slice the mushrooms into fine slivers and set aside. Reserve the stock.
4. Place the 8 tablespoons of butter in a large sauté pan over medium high heat. When the butter is melted and bubbling, add the leeks and stir to coat with the butter. Cook for 2-3 minutes, then stir in the celery, ½ teaspoon of salt and the pepper. Cook over medium low heat until the vegetables are softened and tender, another 10 – 12 minutes. Add the sliced mushrooms and turn the heat back up to high.
When the mushrooms release their liquid, add the slivered porcinis, Sauternes and marjoram and cook until the liquids have evaporated. Stir in the lemon juice, chives and parsley. Add this mixture to the toasted brioche cubes in the bowl and stir to combine. Add the stock to the bowl and mix well. Cool for 5-7 minutes, then stir in the beaten eggs and mix well. Pour the mixture into the prepared baking dish and bake for 40 – 45 minutes, or until the dressing is puffed and golden brown.
Sarah Scott
Chef/Culinary Consultant