Butternut squash and gorgonzola gratin with toasted hazelnuts
25 October 2010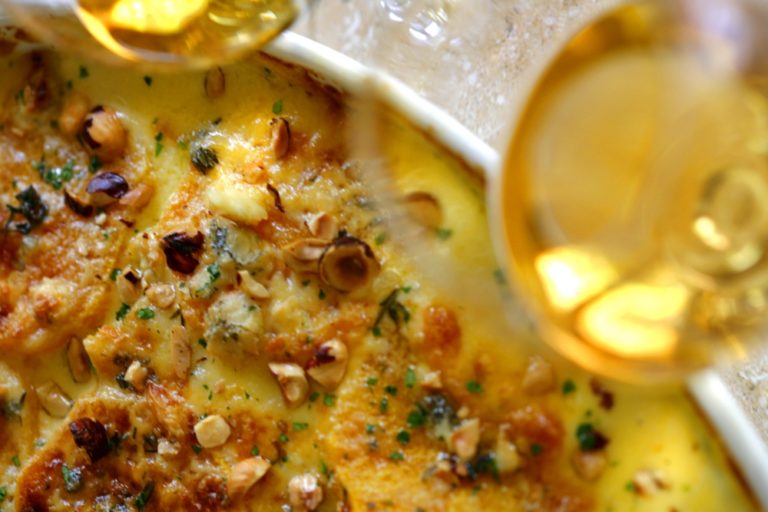 Serves 8 to 10
Ingredients:
2 tablespoons unsalted butter, at room temperature
½ cup whole hazelnuts (about 2 ounces), skin on
1 large or 2 medium butternut squash (about 4 ½ pounds)
1 quart heavy whipping cream
2 cloves garlic, smashed
2 teaspoons kosher salt
¼ teaspoon pepper
2 teaspoons fresh thyme leaves
4 ounces gorgonzola cheese, crumbled
1 teaspoon lemon juice
Instructions:
1. Preheat the oven to 350°. Position a rack in the center of the oven. Butter a 9"x13" baking dish with the 2 tablespoons of butter.
2. Place the hazelnuts on a baking sheet in a single layer and toast in the oven for 10 minutes, or until fragrant. Remove the nuts from the oven and place them on a  kitchen towel, folding the sides to enclose them.  Rub the warm hazelnuts briskly inside the towel to remove the skins.  Coarsely chop the cleaned nuts and set aside.
3. Peel and seed the butternut squash. Slice into ¼"  thick slices.
4. In a large saucepan, combine the cream, smashed garlic, salt and pepper over medium high heat. When the mixture comes to a boil, remove the garlic, using a slotted spoon, and discard.  Add one third of the sliced squash, pushing the squash slices down to submerge them in the cream. Bring the mixture back to a boil, then turn it down and simmer for 5 minutes.
Using a slotted spoon, remove the squash slices and place them in the prepared baking dish, spreading them evenly into a single layer. Sprinkle with  1 teaspoon of the thyme leaves and one third of the crumbled gorgonzola. Repeat with the remaining squash slices, ending with just the squash on top. Reserve the remaining one third of the gorgonzola.
5. Bring the cream back to a boil, then turn it down and cook it until it is thickened and reduced to about 1 ½ cups. Stir in the lemon juice. Pour the cream over the squash evenly, shaking the dish to distribute it all the way down. Press gently with a spatula or spoon to make sure the squash slices are covered in the cream. Sprinkle the remaining gorgonzola on top. Bake for 40-45 minutes, or until the gratin is golden brown and bubbling. Remove to a cooling rack. Sprinkle the toasted hazelnuts over the top just before serving.
Sarah Scott
Chef/Culinary Consultant