Green Beans with Apple-Wood Smoked Bacon and Crispy Shallots
25 October 2010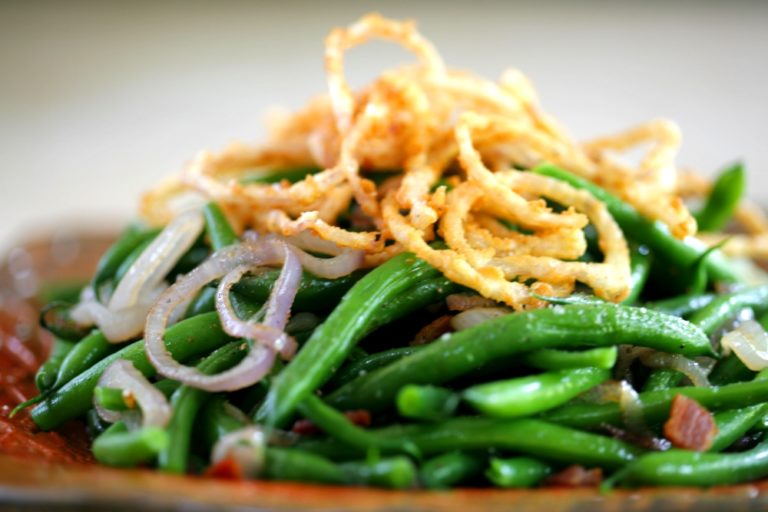 Serves 8
Ingredients:
1 1/4 pounds green beans, stem ends removed
3/4 pound shallots
1 1/2 cups buttermilk
1 1/2 cups flour
1 1/2 teaspoons salt, plus more for seasoning the shallots
1/2 teaspoon pepper
Vegetable oil for frying
2 slices apple-wood smoked bacon, cut into 1/4" dice
1 tablespoon pure olive oil
Grated zest of 1 lemon
1/2 teaspoon lemon juice
Preparation:
1. Bring a large pot of salted water to a boil over high heat. Have a large bowl of ice and water next to the stove. Place the beans into the boiling water and cook until just tender, about 5-6 minutes. Remove, using a slotted spoon or strainer, and place them immediately into the bowl of ice water. When cool, strain the beans and set aside.
2. Slice the shallots crosswise, into thin rings. Set aside 1/2 cup. Place the buttermilk in a large bowl and add the shallots. Stir well to make sure the shallots are completely submerged in the buttermilk. Set aside for at least 20 minutes or up to 1 hour at room temperature.
3. Place the flour, 1 teaspoon salt and 1/4 teaspoon pepper in a large bowl. Have a wire-mesh strainer nearby. Line a baking sheet with paper towel.
Add enough vegetable oil to a medium saucepan to come about 3" up the sides. Heat the oil to 350°.
4. Drain the shallots through a colander or large strainer, discarding the buttermilk. Place a handful of the shallots into the bowl of flour, tossing to coat them evenly. Lift them out and place them in the mesh strainer over the bowl of flour, shaking the strainer to remove any excess flour. If they are sticking together, add more flour, using your fingertips to separate them. Drop into the hot oil, being careful not to crowd them and cook until golden brown, about 1-2 minutes.
5. Remove from the oil to the paper-towel lined baking sheet. Sprinkle with salt and finish cooking the remaining shallots, making sure the oil returns to 350° before adding more. Hold the shallots in a warm place while finishing the dish.
6. Place the bacon and olive oil in a large sauté pan over medium heat. Cook until the bacon is starting to turn golden brown, about 3-4 minutes. Stir in the reserved sliced shallots and cook until tender, about 2-3 minutes more. Add the blanched green beans to the pan, tossing to coat them with the bacon and shallots. Add the remaining 1/2 teaspoon salt and 1/4 teaspoon pepper. Stir in the lemon zest and juice. Top with the crispy shallots just before serving.
Sarah Scott
Chef/Culinary Consultant