Lemon and rosemary marinated pork tenderloin with spicy ratatouille
25 January 2011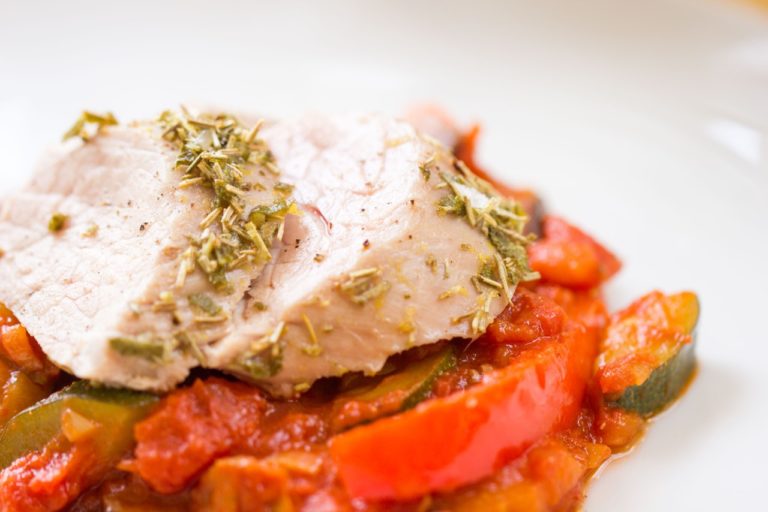 Ingredients:
For the pork:
1 lemon, finely grated zest and juice of half
1 tbsp. rosemary, very finely chopped
1 tbsp. thyme, very finely chopped
1 tbsp. sage, very finely chopped
1 tbsp. runny honey
1 tbsp. olive oil
400g pork fillet (tenderloin), whole
Sea salt and black pepper
For the ratatouille:
4 tbsp. extra virgin olive oil
2 medium onions, finely diced
2 cloves of garlic, finely diced
1 chipotle chili, de-seeded and finely chopped
2 tsp. hot paprika
1 small aubergine, roughly diced
1 medium courgette, roughly diced
1 large orange pepper, de-seeded and roughly diced
A glass of white wine
2 tins (800g) of cherry tomatoes
A bay leaf and a sprig of rosemary
Sea salt and black pepper
Instructions:
1. Combine all the ingredients for the lemon and rosemary marinade in a bowl.
2. Rub the mixture over the pork, coating it evenly.
3. Set to one side to marinate and begin to prepare the ratatouille.
4. In a large pan, fry the onion and garlic in the oil over a low heat, until soft and translucent. Add the chili and paprika and cook for a couple of minutes. Add the vegetables and fry over a medium heat for 3-4 minutes. Add the wine, and once evaporated, add the tomatoes and herbs. Simmer gently for 40 minutes, or until the sauce is thick and concentrated.
5. Meanwhile, preheat the oven to 200°C. Don't forget to stir the ratatouille.
6. Remove the bay leaf and rosemary from the ratatouille and season to taste.
7. Sear the pork in a large non-stick frying pan for 1-2 minutes on each side.
8. Transfer the pork to an oven tray. Cook for 12-16 minutes, depending on thickness. Rest the meat for 3-4 minutes.
9. Slice and serve it with the ratatouille.