Anadama Mushroom stuffing with Apples and Prunes
25 October 2012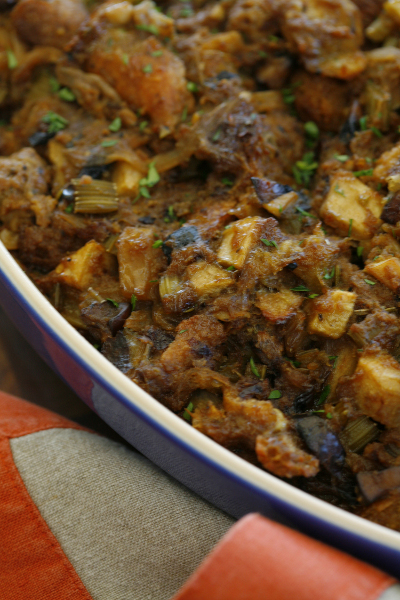 Serves 10
Ingredients:
1 pound sausage (not spiced; if possible have your butcher grind the meat for you)
5 tablespoons butter
3 cups onions, chopped
6 stalks celery, chopped into small pieces
2 cups mushrooms (oyster, shitake or trumpet are best), chopped
1 cup shallots, chopped
12 prunes, chopped
2 cups apple, chopped
1 tablespoon fresh sage, chopped
1 tablespoons fresh thyme, chopped
1 tablespoon fresh rosemary, chopped
6 cloves garlic
3 cups chicken broth, or more, enough to moisten bread crumbs
2 large eggs, beaten
12 cups Anadama or a hearty whole grain bread, torn small and lightly toasted
1 1/4 cup fresh parsley, chopped
Salt and pepper to taste
Preparation:
1. Brown the sausage with salt, pepper and two tablespoons herbs de provence separately and reserve.
2. Sauté the mushrooms at a med-high heat in the fat left over from the bacon and sausage and reserve.
3. Sweat and lightly caramelize the onions and shallots with the herbs and garlic in the butter and reserve.
4. Whisk the eggs into the chicken broth.
5. Combine all reserved ingredients into a large pot or pan and mix well.
6. Bake covered at 325 ºF (163° C) until set (it should resemble a soft bread pudding.)
7. Bake uncovered at 350 ºF (176° C) for 5 – 10 minutes until a golden brown crust forms.