Chicken liver pâté with caramelized orange segments
25 October 2012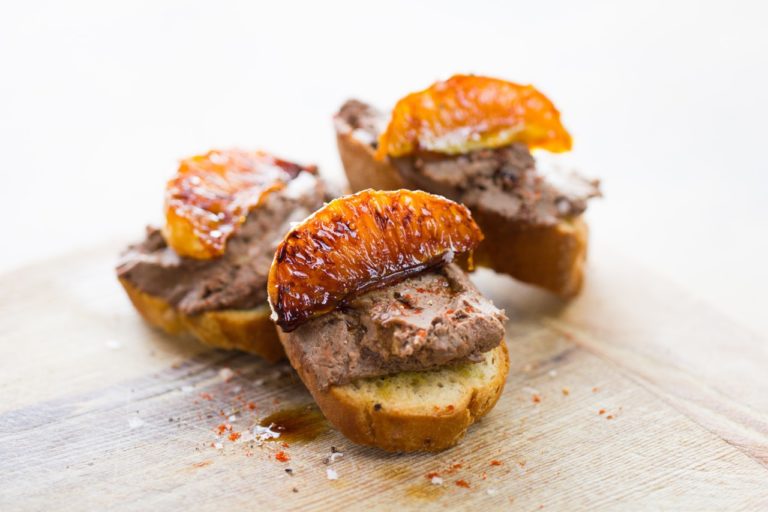 Ingredients:
For the pâté:
6 tablespoons (85g) of butter
2 shallots, finely chopped
2 rashers smoked streaky bacon, roughly chopped
2 cups (250g) of chicken livers, trimmed
2 tablespoons of brandy or Amontillado sherry
2 tablespoons of double cream
¼ tablespoons of cayenne pepper
Sea salt and black pepper
For the orange segments:
1 large orange, peeled and cut into eighths
¼ cup (50g) of light brown sugar
Toasted or crusty bread to serve
Preparation:
1. Fry the shallots and bacon in 3 ½ tablespoons (50g) of the butter in a large frying pan over a medium heat.
2. Once the shallots are soft and translucent, turn up the heat and add the chicken livers.
3. Fry until the livers are cooked and just slightly pink inside (2-3 minutes on each side).
4. Add the brandy to the pan and cook for 30 seconds.
5. Pour the mixture into a food processor and add the double cream.
6. Add the cayenne and blend well until smooth. Season to taste.
7. Pour the pâté into a ceramic dish or divide it between four ramekins.
8. Melt the remaining butter and pour it over the pâté.
9. Refrigerate for at least 3 hours before serving.
10. Meanwhile, dip the orange segments in the sugar to coat them.
11. Fry them in a dry non-stick pan over a medium-high heat until lightly caramelized.
12. Serve the pâté with toast and the caramelized orange segments alongside.