Butternut Bacon Bread Pudding with Leeks and Sage
25 October 2013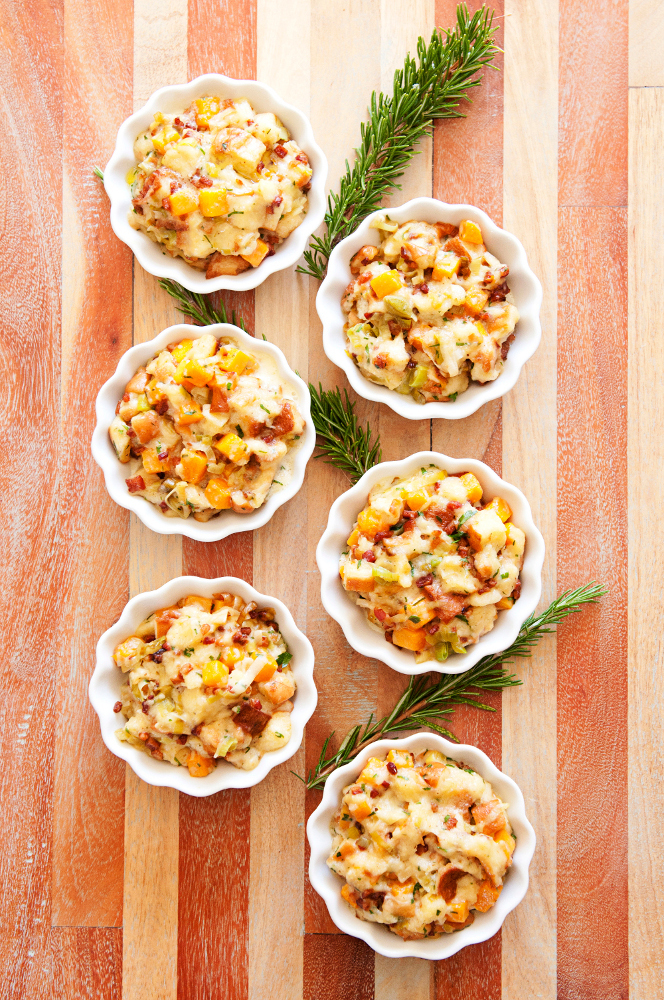 Serves 10
Ingredients:
Butter for baking dish or individual ramekins
4 slices bacon
1 tablespoon butter
2 medium leeks, white and tender green parts only, chopped
1 clove garlic, minced
1 pound butternut squash, peeled, seeded and cut into 1-inch cubes
1 pound Sweet Bread (Brioche or Sweet Baguette is fine)
6 eggs
1 1/2 cups whole milk
1 1/2 cups cream
2 cups loosely packed Gruyère cheese
2 teaspoons fresh thyme leaves, finely chopped
2 sage leaves, finely chopped
1/2 cup chopped parsley (1/4 cup for filling and 1/4 cup for garnish)
1/2 teaspoon lemon zest
1 teaspoon lemon juice
1/8 teaspoon nutmeg
1 teaspoon kosher salt
1/2 teaspoon ground black pepper
Preparation
1. Butter a two-quart gratin dish or a 13 x 9-inch baking dish or 10 five-ounce ramekins. Preheat oven to 375 °F (190 °C). Lay the bacon on a cooling rack over a sheet pan. Transfer to the oven and cook until crisp (about 12 minutes). Let cool on the cooling rack. Reserve 1 tablespoon of the bacon renderings. Once cool, chop the bacon into ½-inch bits. Set aside.
2. Melt the butter in a sauté pan and add the reserved bacon renderings. Add the leeks and cook over medium heat, stirring occasionally, until softened (about 15 minutes). Add the garlic and cook for 1 minute. If pan becomes too dry and leeks are sticking, add a bit of water to the pan to keep them soft.
3. Peel and seed the squash and cut into 1-inch cubes. Put on a parchment lined baking pan and cover with foil. Cook in the oven about 10 minutes until tender but not soft. (The squash will be cooked again).
4. On a large rimmed baking sheet, toast the bread until just dry, about 10 minutes. Let cool completely.
5. In a large bowl, whisk the eggs, milk, cream, 1 cup of Gruyère, thyme, rosemary, sage, parsley, zest, juice and nutmeg, leeks, salt and pepper. Add the bread cubes and let stand for 5 minutes, stirring occasionally. Gently fold in the bacon and squash and transfer to the prepared baking dish or ramekins. Sprinkle top of pudding with the remaining cup of cheese. Bake for 40 minutes if using a baking pan/gratin pan or 25 minutes if using ramekins, or until browned on top and just set. Let rest for 15 minutes before serving.
6. Garnish with the remaining 1/4 cup of parsley and serve.
This recipe was specially created by Private Chef Sarah Heller of Yountville, California, for Château Coutet. To contact Chef Heller, please visit www.sarahhellercooking.com.