Butternut Squash Gnocchi with Brown Butter Sage Sauce
25 October 2013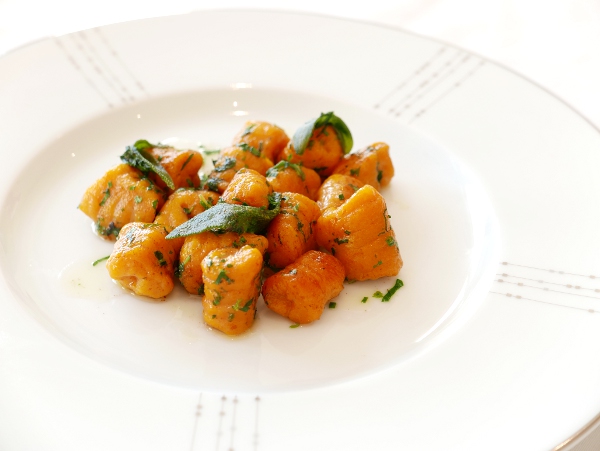 Serves 8
Ingrédients:
1 large butternut squash about 2 lbs
1 tablespoon olive oil3 large egg, beaten
1/2 teaspoons freshly grated nutmeg
2 cups all purpose flour
4 cups of semolina flour
1 stick butter
10 leaves of fresh sage chopped
Salt pepper
Preparation:
1. Preheat oven to 400° F, or 200° C.
2. Cut butternut lengthwise, deseed and season with olive oil and salt. Roast for 1.5 hours until very tender.
3. Once the squash is cool to the touch put the squash, eggs, and nutmeg into the food processor until smooth. Add salt to taste.
4. In a mixing bowl fold squash mixture, and just enough flour so it isn't sticky to the touch start with 1.5 cups. Adjust accordingly.
5. Lay the mixture on a work surface and shape into ½ inch logs and cover with semolina flour so it does not stick to the table. Cut into ½ inch pieces and shape and roll with a gnocchi board or a fork to make desired marks.
6. Lay the pieces on a bed of semolina until ready to cook.
7. Boil water in a large pot and season with salt.
8. Dust off the semolina and cook the gnocchi until they float for 3 mins.
9. In a separate pan melt and cook the butter on medium until its nutty and brown. Add the boiled gnocchi and sage, cook until brown and crispy on the outside.
This recipe was specially created by Chef Tsu-Hung Bam Liu