Sweet potato cornmeal cake, lemon whipped cream
25 October 2013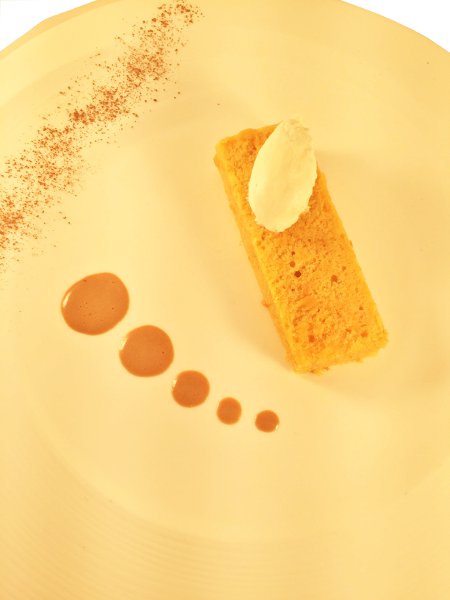 Serves 10
Ingrédients:
2 small sweet potatoes
½ lb butter room temperture
2 eggs separated
1 whole egg
1 cup sugar
1 tsp vanilla extract
¼ oz rum
2 tsp baking powder
¼ tsp salt
½ cup fine cornmeal
1 ½ cup All purpose flour
1 lemon
¼ cup sugar
3 cups heavy whipping cream
Preparation:
1. Preheat oven to 350° F.
2. Bake the sweet potatoes until tender peel and mash into a bowl.
3. Weigh out 8 oz of sweet potatoes add the rum and vanilla extract.
4. Sieve together sugar, flour, baking powder, salt into a bowl. Whisk in cornmeal and set aside.
5. In a mixer paddle together the butter and the sugar on medium speed until light and fluffy.
6. On low add 2 yolk and whole egg one at a time. Once the eggs are mixed in add the sweet potato mixture.
7. Slowly add in the dry ingredients on low a little at a time. Be Sure to scrape down the mixing bowl to everything is evenly mixed.
8. In a separate bowl whisk the 2 egg whites until soft peak.
9. Fold the whites into the batter careful not to not over mix.
10. Spray or butter down a small baking sheet or cake pan.
11. Spread the batter into the pan and bake for 20 mins.
12. Rotate after 20 mins and bake for 5 more.
13. When the cake is golden brown and the toothpick comes out clean take the cake out and place on a cooling rack.
14. Whip the cream and sugar together until stiff peaks, fold in the zest of the lemon and refrigerate.
15. Serve cake sliced with lemon whipped cream.
This recipe was specially created by Chef Tsu-Hung Bam Liu.