Roasted pancetta-covered turkey with preserved fruit stuffing
25 October 2015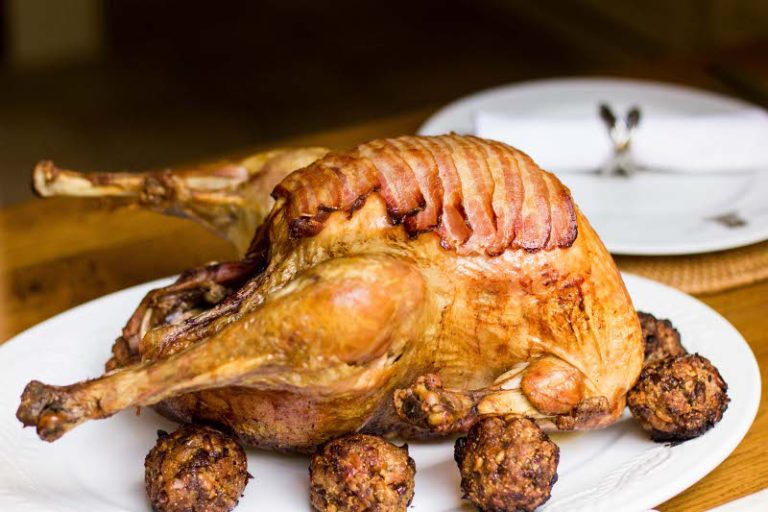 Ingredients:
2 tbsp. sunflower oil
2 red onions, finely chopped
1 tsp. cinnamon
½ tsp. nutmeg
½ tsp. cayenne pepper
2 tsp. thyme, finely chopped
60g pine nuts, lightly toasted
150g dried apricots, roughly chopped
150g dried figs, finely chopped
250g breadcrumbs
2 eggs
1 turkey
150g butter
150g thin pancetta rashers
Sea salt and black pepper
Preparation:
1. In a large saucepan, fry the red onions in the sunflower oil over a medium heat until soft and translucent.
2. Stir in the cinnamon, nutmeg, cayenne pepper and thyme and cook for a couple of minutes until the spices are fragrant.
3. Remove the pan from the heat and stir in the pine nuts, apricots, figs and breadcrumbs.
4. Allow the mixture to cool for a couple of minutes then mix in the eggs. Season generously with sea salt and black pepper and allow to cool.
5. Preheat your oven to 200°C, and ensure that your turkey is at room temperature. Place it on your largest oven tray, and pour 2 cups of water or stock into the base of the tray.
6. Stuff the cavity of the turkey with the stuffing. If not all will fit inside the bird, shape it into golf-ball sized balls and add them to the roasting tray 25 minutes before the turkey is cooked, or roast them in a separate foil-lined tray.
7. Make an incision between the skin and breast of the turkey and stuff it with the butter.
8. Place the turkey in the oven, and immediately turn the heat down to 180°C. Cover the turkey loosely with foil after 20 minutes. Allow to cook until the juices run clear, depending on the size of your turkey.
9. Remove the turkey from the oven and drape the pancetta evenly over the bird before returning it to the oven without the foil covering and turning the temperature to 220°C.
10. Cook until the pancetta is crispy and golden then allow the turkey to rest at room temperature for at least 30 minutes before serving. If desired, make a gravy with the pan juices, or serve with a sauce of your choice.
This recipe was specially created by Chef Alex Yandell.