Prime cut of veal seasoned with Sichuan pepper, Sauternes-flavored veal sauce and confit tomatoes
25 October 2016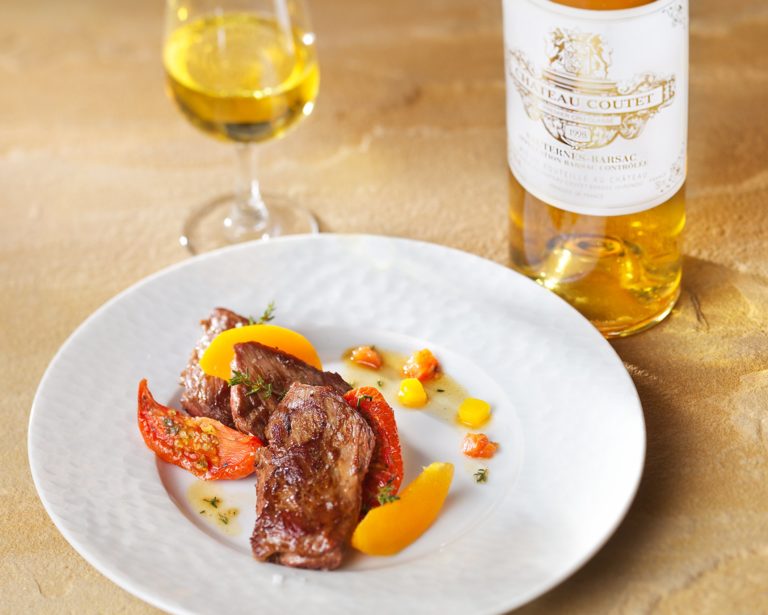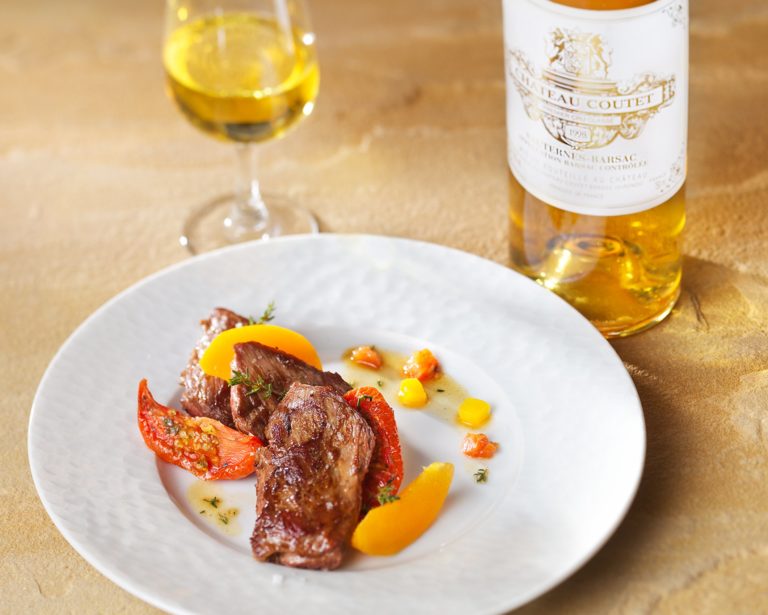 Serves 4
Preparation time: 20 minutes
Cooking time: 1 hour
Ingredients:
4 prime cuts of veal
2 teaspoons of Sichuan pepper
Salt
A splash of olive oil
Fresh thyme
4 good-sized tomatoes (like the cœur-de-boeuf variety)
1 yellow pepper
4 cloves of garlic, skin on
To make the sauce:
2 shallots
1 glass of Sauternes/Château Coutet
5 fl oz (15cl) basic brown veal stock
A few drops of lime juice
Preparation:
First cut the tomatoes into thick segments and the yellow pepper into thick strips.
Put the vegetables and garlic cloves in their skins onto an oven tray. Pour some olive oil over them. Add a little salt and pepper.
Heat the oven at 270°F (140°C) and cook the vegetables for about 45 minutes.
To make the brown sauce with Sauternes/Château Coutet:
Gently cook the shallots in some butter.
Add the Sauternes and lime juice. Cook until reduced by half.
Add the basic brown veal stock and a little Sichuan pepper.
Cook until you have a creamy consistency.
Salt the veal pieces and fry them on a high heat until pink.
When they are cooked, shake some Sichuan pepper over the veal pieces.
Serve the veal pieces with the confit vegetables and the brown sauce with Sauternes.
Suggestion:
Accompany the dish with a nice green salad. A good cut of beef can be used instead of veal.