Warm oysters with leeks
25 December 2016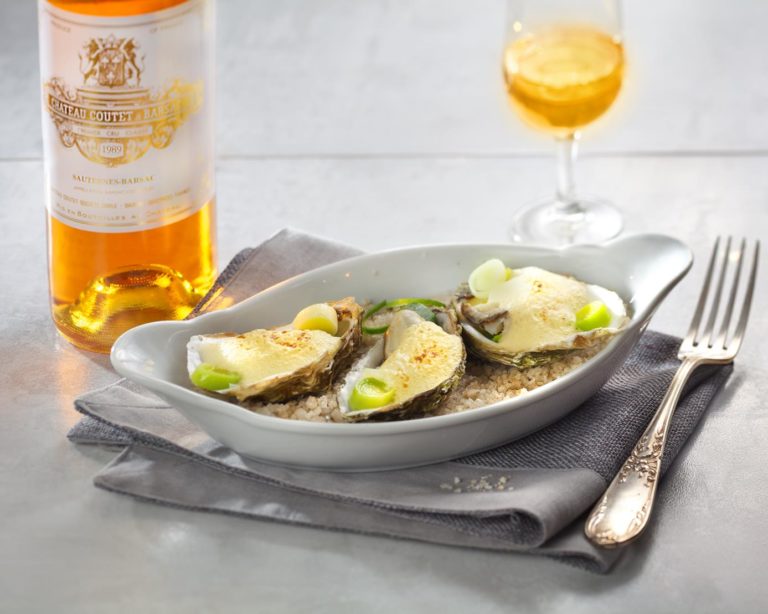 Serves 4
Preparation time: 45 minutes
Cooking time: 30 minutes
Ingredients:
12 fleshy oysters (Marennes Oléron n°2)
2 tablespoons of Château Coutet
Ingredients for the fondue:
2 cups (200g) of the white part of the leeks
1 ½ tablespoons (20g) of lightly salted butter
Ground pepper
Ingredients for the Zabaglione:
3 egg yolks
2 tablespoons of Château Coutet
2 tablespoons of the oyster's cooking broth
2 tablespoons of lightly salted butter, melted
Salt and ground pepper
Preparation:
Chop the white part of the leeks finely and brown them with the butter, in a covered pan.
Let them simmer for about 15 minutes.
Open the oysters and remove them delicately from their shells while setting their juice aside.
Save the hollow parts of the shells and rinse them under cold water.
Bring the oyster juice to a boil, throw in the oysters and immediately remove the pan from the stove. Leave the oysters in the broth.
Place the egg yolks with the Sauternes and the oyster broth in another small pan.
Heat up the mixture very slowly while constantly whisking it to aerate it.
You must constantly put your hand underneath the pan to make sure the zabaglione does heat and curdle up while the yolks are cooking. The zabaglione must become very fluffy/frothy.
When the zabaglione is cooked, add in the melted butter. Season the zabaglione.
Garnish the oyster shells with the hot leek fondue. Add a poached oyster on top and ladle them with the zabaglione.
Put all the oysters in the hot oven for a few minutes and…It's ready!
Our recommendation:
You may serve the oysters on a bed of rock salt on each plate.