Saint-Jacques scallops with chanterelle mushrooms and citrus fruit juice
25 June 2017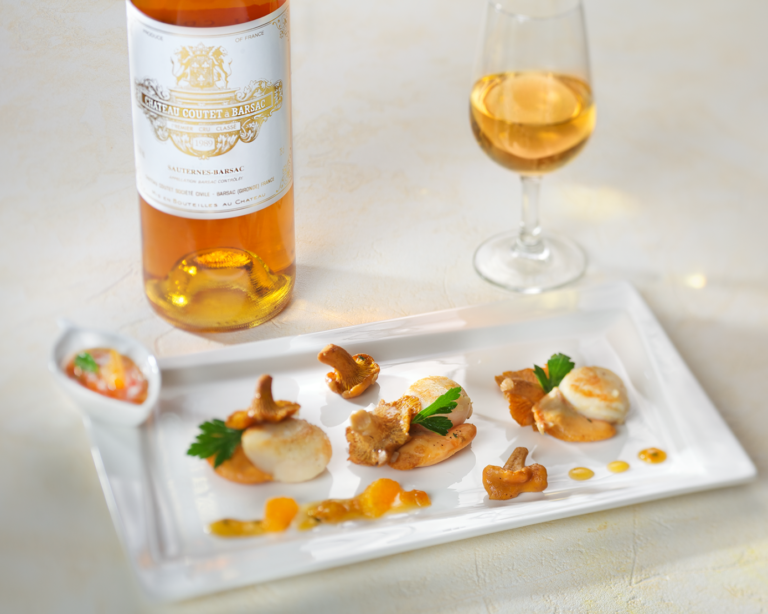 Serves 4
Preparation time: 25 minutes
Cooking time: 10 minutes
This is a very elegant starter combining ingredients from the sea and land. The citrus fruits add a touch of sweetness and tanginess to this dish –an excellent pairing with Château Coutet.
Ingredients: 
12 good-sized Saint-Jacques scallops
Salt and freshly-milled pepper
300g fresh chanterelle mushrooms
1 shallot
A few flat-leaf parsley leaves
A splash of olive oil
For the citrus fruit juice: 
1 grapefruit
1 orange
1 clementine
1 small piece of fresh ginger
A splash of olive oil
Preparation:
Cut a few zests from the citrus fruits.
Squeeze the orange, grapefruit and clementine.
Add the grated ginger to the juice and reduce by ¾.
Stir a little olive oil into the juice and lightly season.
Clean the chanterelle mushrooms and sauté them in a dash of olive oil on high heat.
Season the chanterelle mushrooms when cooked through and then add the very finely chopped shallot and parsley.
Put the chanterelle mushrooms aside.
Lightly salt the Saint-Jacques scallops and cook them 1 minute on each side over very high heat.
Pepper the scallops when they are cooked
Arrange the Saint-Jacques scallops and the chanterelle mushrooms attractively on plates.
Pour a little of the reduced juice onto each plate and decorate with the flat-leaf parsley
It's now ready to enjoy!
Suggestion:
The Saint-Jacques scallops should be cooked very quickly to avoid them being rubbery.