Cranberry, smoked pancetta and red onion filo tartlets
25 October 2017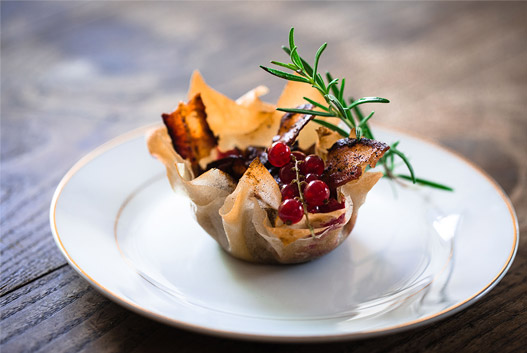 Serves 8
Ingredients:
50 grams butter
3 large red onions, finely sliced
2 tablespoon balsamic vinegar
6 tablespoon light brown sugar
A sprig of thyme
200 grams cranberries or redcurrants, stems removed
250 grams ready-rolled filo pastry sheets
Melted butter for brushing
150 grams thinly sliced smoked bacon or pancetta, fried until crisp
Sea salt and black pepper
Preparation:
1. Heat the butter in a large, non-stick frying pan until melted. Add the onion, balsamic vinegar, brown sugar and thyme and fry gently over a medium heat for about 15 minutes, stirring occasionally, until soft and caramelised. Stir in the cranberries or redcurrants and remove the pan from the heat. Season generously.
2. Preheat the oven to 190ºC then take a muffin tray and butter it generously. Cut each layer of filo pastry into squares of roughly 10 x 10 cm.
3. Layer up 4 squares, at odd angles, into each muffin tray hole. Brush a little melted butter between each sheet.
4. Break the bacon or pancetta into small shards then stir 3/4 of them into the onion-cranberry mixture. Fill each filo base with the mixture then bake for 15-20 minutes, until the pastry is crisp and slightly golden.
5. Remove from the tin and serve warm, using the remaining shards to garnish.
This recipe was specially created by Alex Yandell