Pan-fried squid, watercress puree and smoked almonds
5 October 2018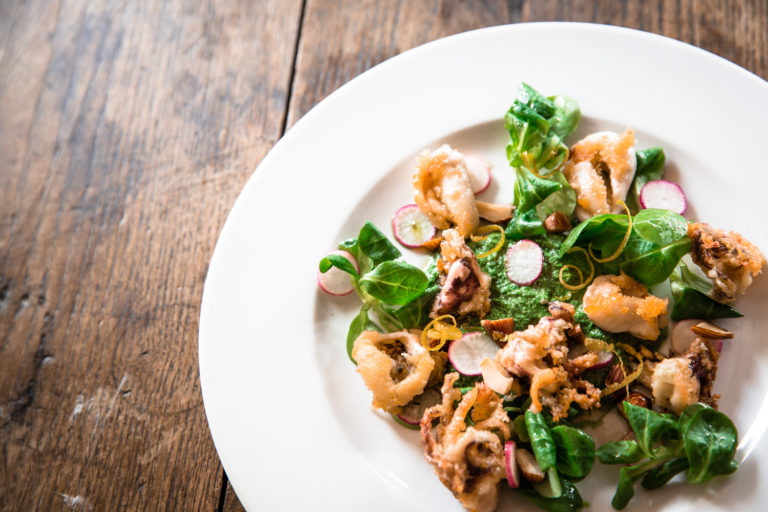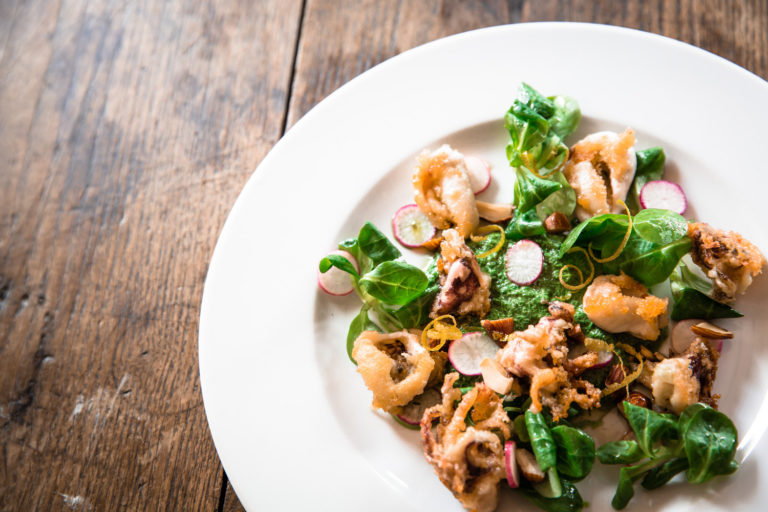 Ingredients:
120ml extra virgin olive oil
1 lemon, juice and stripped peel
50g butter
300g fresh watercress, plus extra leaves for serving
150ml heavy cream
150g flour for dredging
1kg baby squid, with tentacles
Sunflower or groundnut oil for frying
A handful of radishes, very finely sliced
Smoked roasted almonds, lightly crushed
Sea salt and black pepper
Preparation:
1. Very gently fry the strips of lemon peel in the olive oil over a medium-low heat for 5 minutes to infuse, then strain and allow to cool.
2. Fry the watercress in the butter until wilted then season generously and blend it with the heavy cream.
3. Return the blended mixture to a pan to keep warm.
4. Season the flour generously with sea salt and black pepper then dredge the baby squid lightly in the flour.
5. Shallow-fry them in oil over a high heat until crisp and golden, then place on kitchen towel to remove excess oil.
6. Serve the squid on a base of watercress sauce, with a little watercress or lamb's lettuce, sliced radishes, almonds, and a drizzle of lemon oil.
Pair with a bottle of Opalie 2015
This recipe was specially created by Alex Yandell