Gruyère Gougère filled with sweet potato & goat cheese mousse
25 October 2012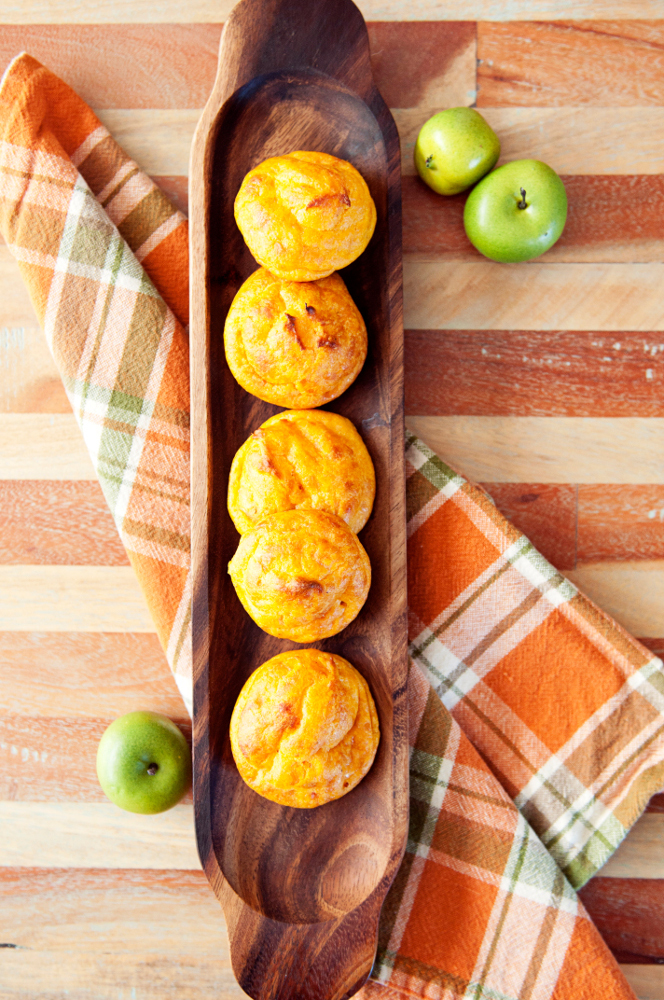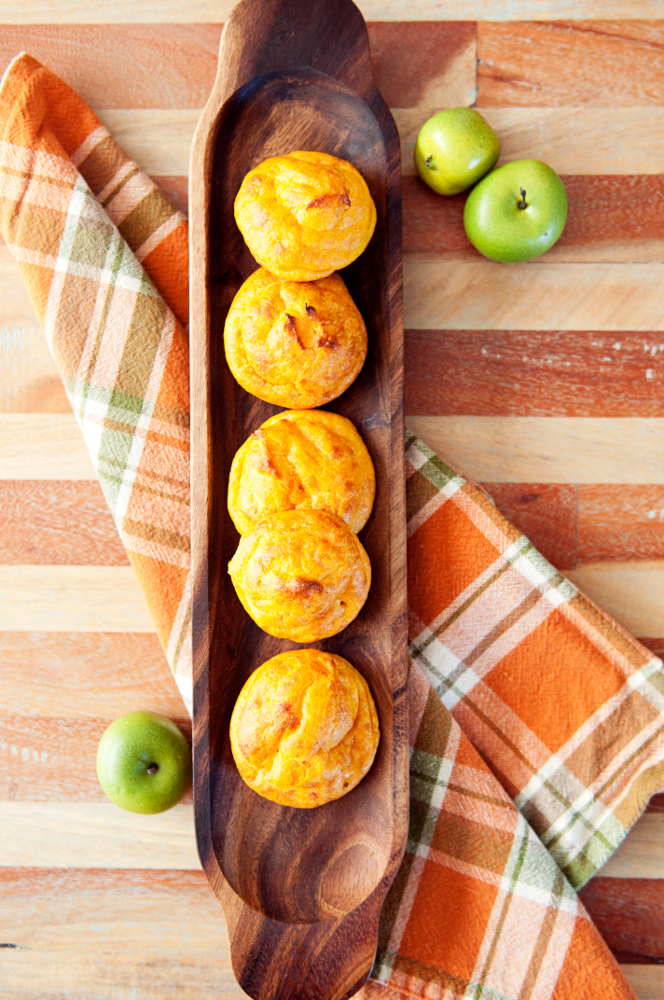 Serves 10 (about 2 dozen pieces)
Ingredients:
1 cup (8 ounces) water
8 tablespoons (4 ounces or 1 stick) unsalted butter, cut into several pieces
1/2 teaspoon salt
1 cup (5 ounces) all-purpose flour
4 large eggs, lightly beaten
1 1/2 cup (6 ounces) grated cheese, like Gruyère or Cheddar
Filling:
2 (approximately 2 cups) sweet potatoes, roasted
1 cup (6 ounces) goat cheese
1/2 cup crème fraîche or sour cream
Preparation for the gougères:
1. Combine the water, butter, salt, and pepper in a 2- to 4-quart saucepan and bring to a rolling boil.
2. Once all the butter has melted, remove the pan from heat and add the flour all at once. Stir vigorously until the mixture comes together and resembles mashed potatoes.
3. Return the pan to medium-low heat and stir for 3-5 minutes to dry out the dough. The dough is ready when it glistens and is thick enough to hold a spoon upright. Some starch buildup on the bottom of the pan is normal.
4. Transfer the dough to the bowl of a stand mixer fitted with a paddle attachment. (The following steps can also be done with a hand mixer or by hand with a stiff spatula.)
5. Beat the dough on a medium-low speed for one minute until it stops steaming and is just warm to the touch.
6. Continue beating and add the egg in four additions. Wait for each addition to be absorbed and for the dough to smooth out before adding the next. Scrape down the sides of the bowl if needed between additions. In the end, the dough should come together in a very smooth, creamy batter. Beat in the cheese.
7. Heat the oven to 450 °F (230 °C). Scoop rounded tablespoons of dough onto sheet pans lined with silicone mats or parchment paper. Space them at least an inch apart.
8. Bake the gougères for 5 minutes and then turn the heat down to 350 °F (180 °C). Bake for another 20-25 minutes, rotating the pans once during baking. The finished gougères will be puffed, deep golden-brown, and dry to the touch. They will also feel light and hollow when picked up.
9. Transfer the sheet pan to a cooling rack.
Preparation for the filling:
1. Mix all ingredients with a whisk or hand mixer until smooth, season with salt and black pepper. Put filling into a pastry piping bag. When the gougères are cool enough to handle, pipe a small amount of mouse inside each gougère. (Look for a weak spot or crack in the side of the baked gougère which will be hollow inside and use the tip of the piping bag to push through the side)
Serve warm or at room temperature.
This recipe was specially created by Private Chef Sarah Heller of Yountville, California, for Château Coutet. To contact Chef Heller, please visit www.sarahhellercooking.com.