Toasted spiced brioche, Amarena cherries and Fourme d'Ambert cheese
24 October 2012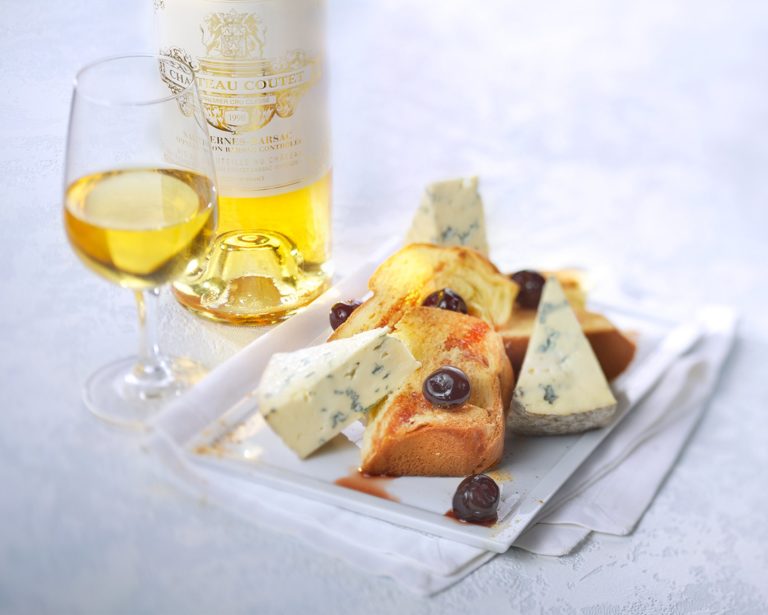 Serves 4
Preparation time: 20 minutes
Cooking time: 30 minutes
Standing time: 60 minutes
Picture a spiced brioche dotted with amarena cherries complemented by delicious Fourme d'Ambert cheese. All that's missing is a Sauternes/Château Coutet wine to make a perfect pairing.
Ingredients:
For the spiced brioche and amarena cherries:
300g flour
15g baker's yeast
4 eggs
150g softened butter
10g salt
30g milk
40g sugar
1 level teaspoon allspice
20 amarena cherries
1 whole egg and some salt for the glaze
200g Fourme d'Ambert cheese
Preparation:
Mix the eggs and the baker's yeast in the lukewarm milk.
Put the flour, allspice, salt and sugar into a bowl.
Add the liquid mixture and knead everything together until the dough is elastic.
Then knead the softened butter into the dough.
Wrap the dough in plastic film and leave in a warm place to rise.
Fold the dough once it has doubled in size.
Mix in the cherries
Put the brioche dough in a cake mold.
Again leave the dough in a warm place to rise
Pre-heat the oven at 170°C. Glaze the brioche and cook it for about 30 minutes.
When it's cool, cut into slices
Toast the brioche slices and serve with generous slices of the Fourme d'Ambert cheese.
Serve them accompanied with a delicious glass of Sauternes /Château Coutet.
Suggestion:
If you do not have any allspice, you can use a pinch of cinnamon and cloves.